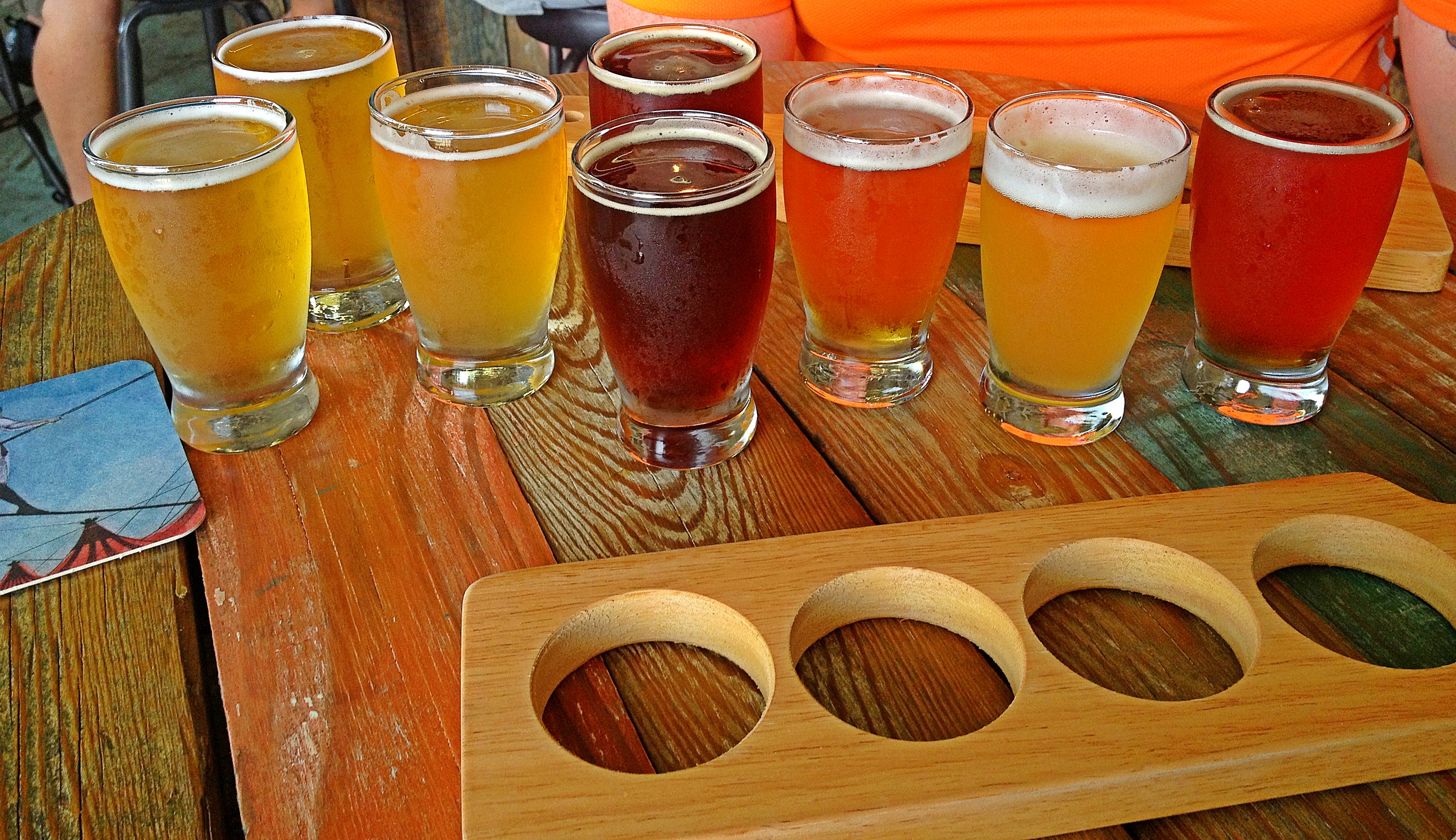 Visit to the Asheville, N.C. Brewery Scene
My fiance and I have a bond forged with craft beer.  It was only fitting that he proposed last week in Beer City USA, after all.
It was our very first trip to Asheville, NC and I have to say we were both very impressed.  We could have used another couple of days there.  Good thing we're heading back soon for a festival and again for our wedding next year.
So, while it's fresh in my head, here's the recap of our short time spent running around this hipster town, where over 50 local brews are available on tap daily.
Wednesday, July 17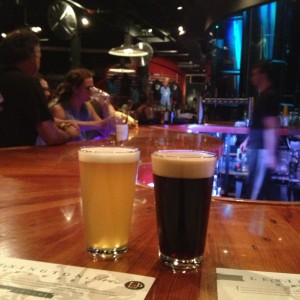 Stop #1
Lexington Avenue Brewery (LAB)
39 N Lexington Ave Asheville, NC 28801
Probably one of my favorites. It was an artsy/techy/hip scene with some really good brews. I had the Scarlet Thread Raspberry Porter, which I rated a 5 bottle caps. Probably could have hung here longer, but we were waiting for our table at a 5-minute walk away from Curate Tapas on Biltmore Avenue (wait was about 45 minutes on a Wednesday night). They had some overhead garage doors pulled up to let the air blow right into the establishment. You can also see the fermentation tanks behind a wall of glass.
Thursday, July 18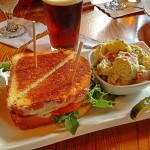 Stop #2
The Stable Cafe at the Biltmore
To the right of the main house on the Biltmore Estate.
Cedric's Brown Ale comes from the brewery on site on the estate (not at the cafe) and is a brewery named for George Vanderbilt's beloved dog. I gave this 4 bottle caps. I think there may be other places to try this beer on the estate as there are a total of 8 restaurants located throughout.
The next 5 stops we walked between: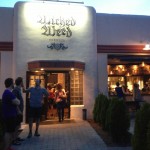 Stop #3
The Wicked Weed
91 Biltmore Ave, Asheville, Buncombe, NC 28801
This came as a recommendation to us from two different people, because they heard we were into beer. A little on the newer side, it felt like an old warehouse turned into a restaurant. Some reclaimed barrels, etc. were used as materials on the walls. Food was good, side dishes were plentiful (so don't over order here). I think most, if not all, of their beers were VERY unique. I know Eric started with the COOLcumber and I got the imPEACHed Wheat, and we both really liked what we got. I think he got one made with beets too. I rated mine 4.5 bottle caps. I too would recommend this.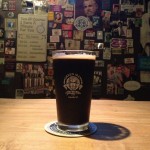 Stop #4
Green Man Brewery
23 Buxton Ave, Asheville, NC 28801
Now this one, I remember seeing their beers all over town. We arrived around 10:30 on a Thursday night and the bartender was like "we close at 9, but it was a little busier tonight, so I stayed open until 10. If you're only having one, I'd be glad to get you one." So, a little loosey, goosey, salt-of-the-Earth, we loved this little place. It was quaint but very welcoming. We loved staring at all the magnetic decor stuck to their beer fridge, and "odd" stuff placed way up into the loft space. You could see the fermentation tanks off to the left in the warehousey-type space. Here, I had the Porter, 4.5 bottle caps.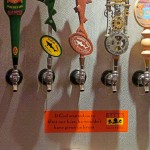 Stop #5
The Thirsty Monk
92 Patton Ave, Asheville, NC 28801
Felt like they were slowing down for the evening when we arrived, but we plopped down on the stools anyway. It was only later, hitting the restroom, did we notice how cool and more lively the basement bar was (so we recommend sitting there). They serve both local and craft beer from across the U.S. Here I picked one that I've never heard of (not knowing we would be there the next day): Up Risin' Hefeweizen by Hi-Wire Brewing. I gave it 5 bottle caps.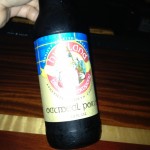 Stop #6
Asheville Yacht Club
87 Patton Ave, Asheville, NC 28801
Known to the locals as the "Pirate Bar" this place stays open later than most of the other brewery-bars, so we decided to check it out at the Green Man bartender's recommendation. I think it was like $3 bottle beer night on Thursdays. Here, I had local Highland Brewing Company's Oatmeal Porter for 3 bottle caps.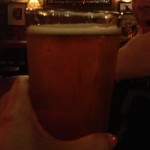 Stop #7
Jack of the Wood Pub
95 Patton Ave, Asheville, NC 28801
A Celtic-style pub, they too seemed to be getting thin for late in the evening. Lots of woody-wrought iron decor. Here, I had the Pale Ale by the Founders Brewing Company (Michigan). Rating: 3 bottle caps.
Friday, July 19
We ventured downtown again to check out the Chocolate Fetish (Haywood St.) at the Battery Park Book Exchange & Champagne Bar (on Battery Park Ave. in the Grove Arcade), both I would also recommend. The Book Exchange is a dog-friendly establishment. Way cool atmosphere.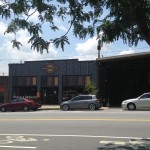 Stop #8
Asheville Brewing Company
77 Coxe Ave, Asheville, NC 28801
It happened to be the local business lunch hour, so they had a pizza bar and we went for that. I wasn't really thrilled by the food here or the atmosphere. It felt like a run-down Mellow Mushroom pizza or something like that. Lots of families. Maybe go for the beer, but not to eat (and have lunch at LAB instead…which I'd be curious to try out the food at). Here, I had the Ninja Porter for 3.5 bottle caps.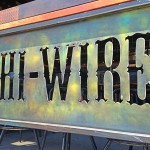 Stop #9
Craggies, well scratch that…it's now Hi-Wire Brewing
197 Hilliard Ave, Asheville, NC 28801
A very spacious, warehouse space with the fermentation tanks and brewing equipment lining the wall to the left, we decided to try the sampler here. You could pick up to 4 beers per sampler and between us we tried 5-6 different beers. It used to be Craggie's, which is what I had found on Google…not quite sure when it changed hands/names…but it was good just the same. Definitely recommend stopping here. The Lager, I think it was good…but Untappd checked me in too fast to rate it. Prime Time Pale I gave 3.5. Bed of Nails Brown, 5. Hi-Pitch IPA, 1.5 from non-IPA girl. Up Risin' Hefeweizen, which I'd already had at The Thirsty Monk the night before, 5. Acrobat Spring Ale, a 3.
Next Time
Places we had heard of but didn't get to visit on this trip…
Hope all this information helps anyone traveling to the Great Smokey Mountains soon. And, feel free to share your experience as well…