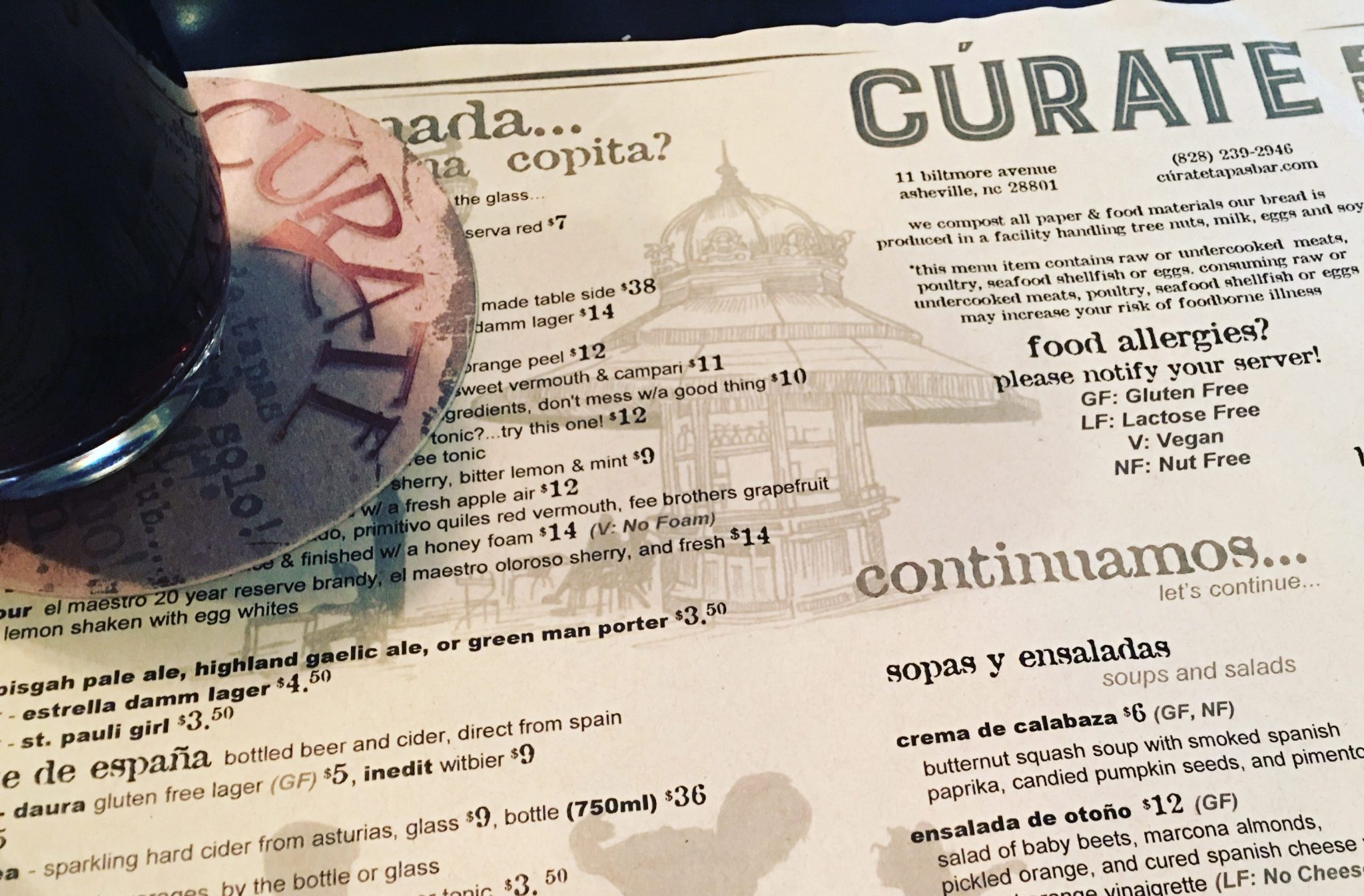 Asheville, Part 2: Where to Eat
As you discovered in Part 1: Where to Stay, there are a plethora of different options in Asheville to meet your unique needs and budget. Similarly, this is true for the restaurant experience as well.
Here, I'll review some of my husband's and my favorite places to grab a bite to eat, especially if it's your first time visiting.
Icon Legend
| | | |
| --- | --- | --- |
| | | Kid / Family-Friendly / Recommended |
| | | Dog-Friendly |
Other than grouped by meal, in no particular order.
Shortcut Menu:
Where to Eat:
Best for breakfast:


#1 Tupelo Honey Cafe (Southern Comfort) $$
Pros: The location south of town tends to have no wait at all and has plenty of outdoor seating too.
Cons: Don't need resos, but note that the downtown location has a line starting an hour or so before opening. Get in line before opening to ensure you're seated when the doors open.
This is a table-service style restaurant. Get the goat cheese grits!


 – not sure about the Haywood Road location, but the Biltmore Avenue location has outdoor (but limited) seating, which I'm sure you could have your friendly, leashed dog with you
#2 Biscuit Head (Breakfast) $
Pros: More food than you should probably eat in one sitting.
Cons: More food than you should probably eat in one sitting.
We've been to the Biltmore Avenue location, but there's also one located off of Haywood Road if you're in West Asheville. This is an order-at-the-counter type restaurant. They have limited outdoor seating at the Biltmore Avenue location.


#3 Green Sage Cafe (American) $
Pros: Gosh, I just can't think of an item we've ordered here that we just didn't like. Like much of Asheville, they are eco-friendly and health-conscious. This is in the heart of downtown Asheville, so super-convenient when we're already lodging in downtown.
Cons: There can be a line at certain times of the day, but not a terrible wait. We we're here with our 13-month-old in December and didn't find a lot of room for a highchair and/or her folded down stroller. The place isn't tiny, but the tables are packed in to accommodate more guests.
This is an order-at-the-counter type restaurant.
Best for lunch or dinner:


#4 Curate (Tapas) $$$
Pros: The food is heavenly, Spanish cuisine. The wait staff is bustling and very attentive. This is in downtown Asheville, which makes it an easy stop when sightseeing in or around town. We've been here twice and I don't remember anything we ordered that we would have changed our minds on…it's all good!
Cons: Reservations are nearly mandatory and can fill up days in advance. There are no baby changing tables in the bathrooms. The tables are rather packed tightly together.
This is a table-service style restaurant. Order 3-5 small plates (tapas) per guest and share amongst the guests at your immediate table.
Update from Restaurant, 2017-April-13: (In the four months since my husband and I last visited the restaurant), they say that the restaurant has been expanded with even more seating, new menu items, and a baby changing table has been added in one of the unisex restrooms.


 – the original location on Roberts Street in the River Arts District (RAD) has a plethora of outdoor seating, which would accomodate your friendly, leashed dog
#5 White Duck Taco Shop (Tacos) $
Pros: Tacos to accommodate ALL taste buds.
Cons: There can be a line, or at least back when it was new there was always a line.
We prefer the original River Arts District (RAD) location, but it is nice to have the convenience of the one downtown now too. The RAD location has a lot of outdoor seating for when the weather is nice and you can have your leashed & well-mannered-dog at your outside table. This is an order-at-the-counter type restaurant.


#6 Lexington Avenue Brewery "LAB" (American) $$
Pros: This might be our favorite "go-to" restaurant. It tends to be the one that we visit the night/day we first arrive in town, and it is right downtown. There's never been much of a wait to get seated, if at all. They change out their menu seasonally. We found it to be very accommodating to our little one (13-months-old at the time). The beer is great too!
Cons: Once we find an item or a beer on the menu that we love, it's not there on return trips because of how often they rotate their items. My husband is still waiting on the beet gnocchi he fell in love with to make a return!
Get the house-cured bacon!


#7 Taco Billy (Tacos) $
Pros: The food was delicious. We sampled the Grandberry (a traditional ground beef taco), Lunch Lady (chicken mole taco), San Cris (slow-roasted pork taco), and the Curb Service (shredded beef taco), which were all excellent. I'm personally hit-or-miss with establishments that make a good chicken mole, but this was definitely one of the better ones I've had. Tacos average around $4 each, and depending on your appetite, anywhere from one to three will suffice. They even have chips and salsa or guacamole side items available. The drink options were plentiful, including local canned craft brews, teas, soda, tap water, etc.
Cons: You will need to drive to this, it's slightly outside of walkable downtown. (It's really close to Short Street Cakes, which I'll review below under the Desserts category). Parking is extremely limited and even the side street didn't offer many options. Limited indoor seating, most of the seating is out back, picnic-table style, and a small seating area on a deck that can be enclosed and heated in the cooler months. There was a constant line for the single-stall, unisex bathroom too. Open 7am-3pm daily, Tuesday-Sunday, they have limited hours to just breakfast and lunch.
The menu is rather short, don't expect many options – but they do an excellent job at what they specialize in. They do have kid meal options available. This is an order-at-the-counter type restaurant. Note: we dined here for lunch, but it looks like they also serve breakfast tacos as well. I just can't speak to that.


#8 Ben's Tune-up (American) $$
Pros: It's downtown, in the South Slope area, so convenient when already at Hi-Wire, Catawba, Twin Leaf, or Green Man especially. They brew their own sake. Food is top notch too.
Cons: If you don't know what you're looking for, it's easy to pass by.
So, we used to pass by this place on visits until a friend of ours checked it out and let us know about it. Why did we pass by it? We literally had no idea that it had a side entrance around back to a mostly open-air restaurant and bar. We thought the bar in the front was all that there was to the place. Boy we're we wrong. The open-air restaurant has a funky vibe to it and we loved being surrounded by all the decor. It's a table-service style restaurant.


 – dogs accomodated on outside, covered patio
#9 Lulella's BBQ (Southern Comfort) $
Pros: We first discovered this at a Brewgrass (Beer) Festival in 2013, where they had "smokestacks" which were beer-pint-glasses filled with pulled pork, then their bbq beans, and topped with coleslaw and a drumstick. It was pouring down rain and the crowd was leaving and we hung out a bit under their tents. The staff and food are both wonderful at the sit-down style restaurant.
Cons: It's a little outside of town, so you'll have to get there by car.
Very family-friendly, especially for larger groups. We ended up holding our informal rehearsal dinner here for our April 2014 wedding. It was a crowd pleaser.


#10 Farm Burger (American) $
Pros: It's in the heart of town, so very easy to get to and is actually located on top of the One World Brewery. Great-tasting, grass-fed beef. They also have chicken and vegan options. Kids menu.
Cons: Not sure if it's fair to say it's a "con" but most of the places on this list are local only to Asheville and though Farm Burger is a small chain, there are less-than-you-can-count-on-two-hands locations scattered across the southeast.
Eco-conscious (commitment to animal welfare, ecological agriculture, local sustainability, social justice) burger chain, order at the counter, and sit down at farmhouse-style tables.


#11 Asheville Brewing Company (Pizza) $$
Pros: Three locations: one downtown and walkable in the South Slope neighborhood, two outside the city. They brew their own beer, so you'll get your meal along with a fresh craft beer. Definitely very family-friendly.
Cons: We thought the pizza and service were mediocre.
It's a table-service style restaurant.


#12 Brixx (Pizza) $$
Pros: Indoor and outdoor seating options. The indoor table we were seated at had a chalkboard and chalk for the kids in your group (make sure to ask for it, if it's available). The food was delicious. Several 10″ personal brick-oven pizzas to choose from, sandwiches, and much more. 24 craft beers on tap.
Cons: It's in Biltmore Park, so unless you're doing some shopping outside of the city, it's not walkable to downtown. (We paired this with a visit to nearby Mountain Play Lodge).
It's a table-service style restaurant.


#13 Blaze (Pizza)
Recommended to us by locals, we have not been here just yet. It's a build-your-own-pizza establishment.
Best for dessert:


#14 The Chocolate Fetish (Chocolatier) $$
Pros: The smell of the place is amazing. Everything we've had from here has been delicious. It is a "must" visit for every single trip that we make.
Cons: It's not really a dine-in kind of place, though there are a couple of small, cafe-style tables. It's more of a chocolate gift shop, whether the gift is for a friend back home or for yourself.
If it's your first visit, go for the rounds or the truffles. They also have a lot of pre-packed goods, in season, along the long wall.


#15 Short Street Cakes (Cupcakes) $
Pros: It's outside of town, so a little bit of a drive. They have both vegan and gluten free cupcakes, if you have dietary restrictions. There's nothing "fancy" about these cupcakes…all the effort goes into the satisfying flavor. They make a great gift if you can keep them refrigerated to your final destination.
Cons: If you get there late in the day, there can be slim pickings. Not a large facility, few places to sit and snack-in.
This is where we got our porter-chocolate wedding cake from in April 2014. Not a piece of that cake was left by the end of the evening. Normally they make this cake from a non-Asheville porter, but we asked if we could bring a growler of porter from Lexington Avenue Brewery (LAB) to use and they accommodated. We wanted our cake to be 100% "local" Asheville. Still the absolute best cake I've ever had in my life, and one that will never be repeated again since LAB changes out their taps so often.


#16 Ultimate Ice Cream $
Pros: Locally-made, premium ice cream. Delicious, sometimes-seasonal flavors.
Cons: The location we visited, north of town, did not have any place to sit. You'll have to drive there, not walking distance from town.
It's an order-at-the-counter style ice cream parlor.


#17 The Hop (Ice Cream) $
Pros: As you'll see in "Asheville Attractions, Part 3" this is also one of our kid-friendly suggestions. They hold a lot of events at the location that is north of town, and they keep their Events list on Facebook updated with the upcoming events schedule. In December, we took our 13-month-old to watch a free kid-performance improv holiday show and it was excellent. The house was packed. The owner was present and making everyone feel accommodated. Homemade ice cream.
Cons: It's north of town, you'll have to drive there…if you consider that a "con" perhaps if staying downtown. This one gets an additional plug in Part 3: What to See & Do.
They have vegan options. This is an order-at-the-counter, old-style ice cream parlor with plenty of space to sit inside.


 – they love friendly dogs, extremely welcome!
#18 Battery Park Book Exchange (Champagne & Dessert) $$
Pros: Books. Champagne. Dessert. Coffee. Dog-Friendly. Great Staff. Atmosphere. Downtown. What more can I say?
Cons: It must be a bit too rustic for some, but that's what we love about it.
This is a great, great location to just "hang out" and relax with your friends' company. We usually order at the bar and then take a seat in one of the many lounge-style set ups, similar to a coffee cafe.


#19 Frostbite Ice Cream (Ice Cream) $$
Pros: There are two convenient locations in Asheville to serve you, one on Patton Avenue and one on Merrimon Avenue. The flavors and toppings were delicious. Recently voted one of  the"Best Soft Serve Ice Cream Shops in America" (Cheapism).
Cons: The menu felt a little intimidating for us first timers, but that was quickly resolved by asking our server for a recommendation if it was our first visit.
They take "ice cream bar" to a whole new level, by incorporating "boozy shakes" and local craft beers on their menu, in addition to an assortment of daily ice cream flavors. If it's your first visit, opt for the build-your-own-sundae (though you may want to consider splitting it, it seemed like a lot following lunch). This is a table / bar-service style ice cream shop.
Other restaurants that we haven't been to just yet, but heard great things about:
We haven't yet experienced a restaurant on the Biltmore property that incredibly wow'ed us, it felt much like food you would experience at a popular sightseeing attraction (pricey and standard). Along the same lines, for the couple of times we've dined at Wicked Weed, we also weren't overly impressed (food felt "heavy"), however we love their beer, as we'll go over in Part 4: Where to Drink. And, finally, we have dined at the Sierra Nevada Brewery. This isn't necessarily something we crave to do again: it just felt "high volume" and was rather pricey for what we were ultimately served, though farm-to-table fare. It seems like it would be a cool place to hang out on the back patio in the warmer months to listen to live music. Finally, New Belgium Brewery, recently opened, does not plan to serve food at their location. They would rather focus on their staple: beer, instead. Wise choice NBB.
Related: