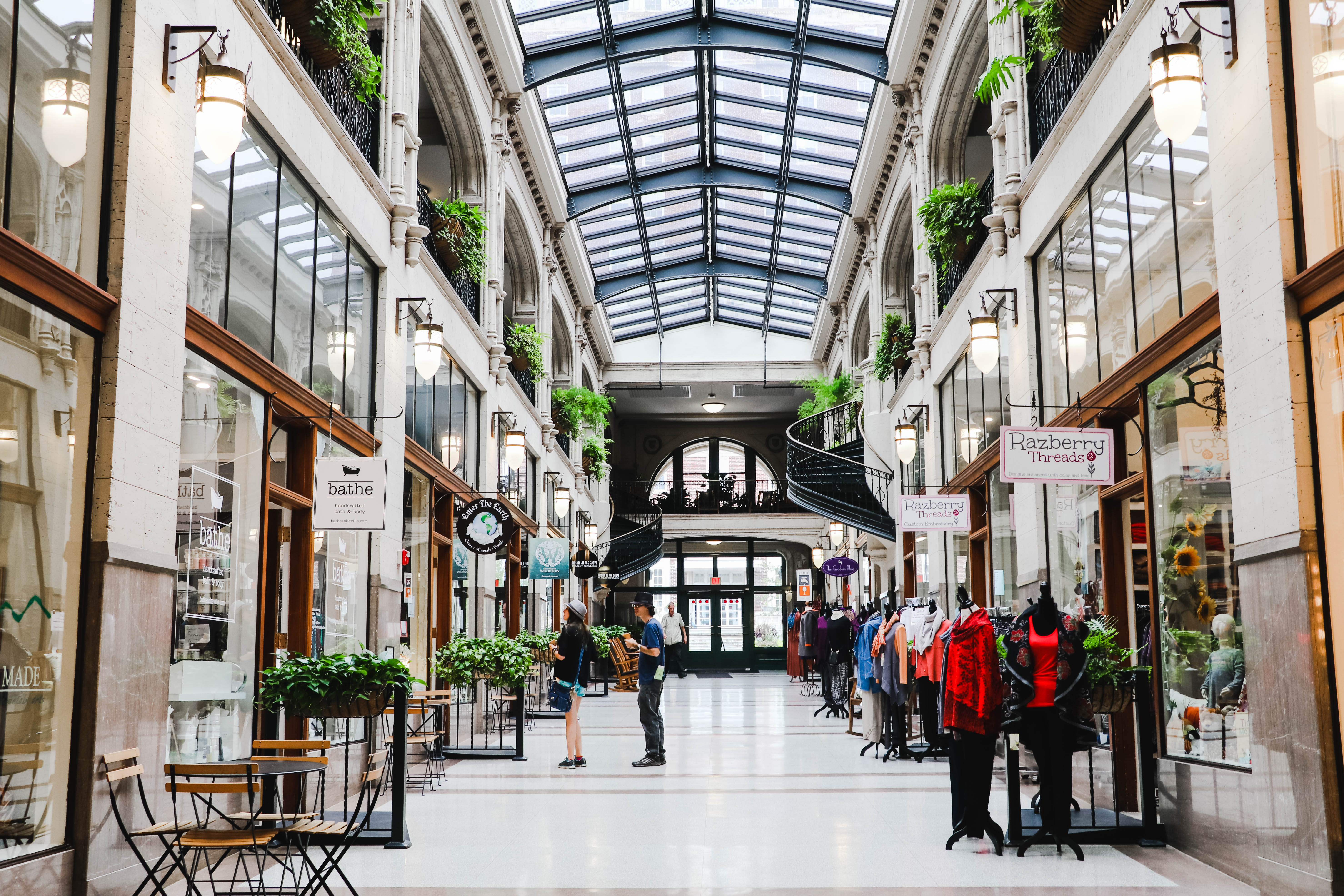 Asheville, Part 5: Where to Shop
So I fooled you, thinking there would be only four parts to my Asheville, NC blog series. But, on this most recent trip I realized I would be leaving out quite a few of my favorite places … this time, "to shop" … if I didn't dedicate a part 5. These are just a handful of the places I like to shop when visiting Asheville.
These are grouped alphabetically by type of shopping experience.
Shortcut Menu:
Where to Shop:
Grove Arcade
Eclectic shopping and dining. Outdoor artists market. Features nearly twenty indoor shops, including children's clothing, instruments, furniture, apothecary, jewelry and more.
Location: Downtown
Omni Grove Park Inn
A handful of both hotel-managed retail stores, as well as regional shops too, like the Nantahla Outdoor Center (NOC) Asheville store. The Omni Grove Park Inn also features sweeping views, a grand lobby, guest rooms, golf, spa, dining, and the annual national gingerbread competition.
Location: Asheville North
Woolworth Walk
Art gallery and emporium, featuring local artists exclusively, in the fully-restored Woolworth building.
Location: Downtown
Outdoor shopping centers:
Asheville Outlet Mall
Over 75 retail outlet stores. Dillard's and Field & Stream anchor the promenade's two ends.
Location: Southwest of Downtown Asheville
Biltmore Park Town Square
Outdoor plaza lined with both unique shops and big-brand retails, such as Barnes & Noble, LOFT, Orvis, and outdoor outfitters REI. From alluring little boutiques such as Francesca's, Altar'd State, Talloni: A Shoe Salon to major shopping galleries. Regal Cinemas also at the Town Square.
Location: Asheville South (Near Arden & Lake Julian)
Biltmore Village
Both national chain stores as well as one-of-a-kind shops you won't find anywhere else. Men's, women's, children's clothing, gifts and books, home goods, furniture, antiques, jewelry, galleries and more. Besides the MTN Merch store mentioned below, be sure to check out New Morning Gallery, the upstairs level that never seems to end, as well as the Southern Highland Craft Guild featuring locally-made folk art and crafts.
Location: Near the Biltmore Gates, Slightly South of Downtown
Stores:
Asheville Emporium
This museum gift shop features an eclectic mix of Asheville souvenirs (magnets, postcards / greeting cards / prints, t-shirts), local and regional art and handcrafts by women, fair trade products from throughout the world, fun and educational kids toys, games, gear, clothing and accessories, and gift items. The shop is open to the general public exclusive of visitation to the exhibit gallery.
Location: Downtown
Asheville Bee Charmer
Pure honey from N.C. and around the world, including local sourwood honey, infused honeys, monofloral honey varietals, as well as gifts for bee and honey lovers.
Location: Downtown
Asheville Direct Brand Gallery
Homegrown products, including foods, medicines, and skin care products, all sourced from within 30 miles of the Asheville. Sixty curated brands. "All of the money that you drop on the counter stays in the mountains."
Location: Downtown
The Chocolate Fetish
Award-winning, handmade gourmet chocolate and truffles. Makes a great treat for yourself or a gift. Always seasonal goods in stock. Their 20-minute "Through the Glass" tour includes a number of samples. They ship.
Location: Downtown
Curio
In a world where toy purchasing is trending more towards online, Curio is a breath of fresh air. Here, you can be hands-on with toys and brands you may not have heard of otherwise. A great place to shop for baby and kids toys and gifts. The inventory is always changing. "For the cute & curious."
Location: Downtown
Duncan & York Modern Market
Local and handmade gifts, as well as favorite items from around the world. Occasion greeting cards, candles and home fragrances, apparel and jewelry, bath and body supplies, books, mugs, notebooks and prints, gifts for babies and kids, manly finds, delicious treats, shirts and knitwear, wall art, office wares, and more. Some featured national brands: Rifle Paper Co., Bando, and Kate Spade.
Location: Downtown
Mast General Store
Located in a former department store space, Mast offers a wide selection of apparel, outdoor gear, gifts and more. If you're into the great outdoors at all, you need to check it out.
Location: Downtown
MTN Merch
Great little shop, located in Biltmore Village, featuring locally logo'ed and made goods: t-shirts, sweatshirts, accessories, drinkware, bottle openers, bumper stickers, and gifts.
Location: Near the Biltmore Gates, Slightly South of Downtown
Nest Organic
Organic clothes for babies and children, organic bedding, cloth diapers, wooden toys, and more. Features locally made goods as well as from small businesses nationally. (They sell Hazel Village handmade dolls here, if you'd like to add one to your little's collection without the shipping).
Location: Downtown
Static Age Records
Eclectic selection of vinyl with friendly and knowledgeable staff.
Location: Downtown
Union Boutique
Men's & women's clothing and accessories shop, featuring jewelry, leather goods, home goods, greeting cards and other lifestyle goods. If you're into Goorin Bros. hats, they have quite a few in stock.
Location: Downtown
Related:
Part 5: Where to Shop – you're reading it!