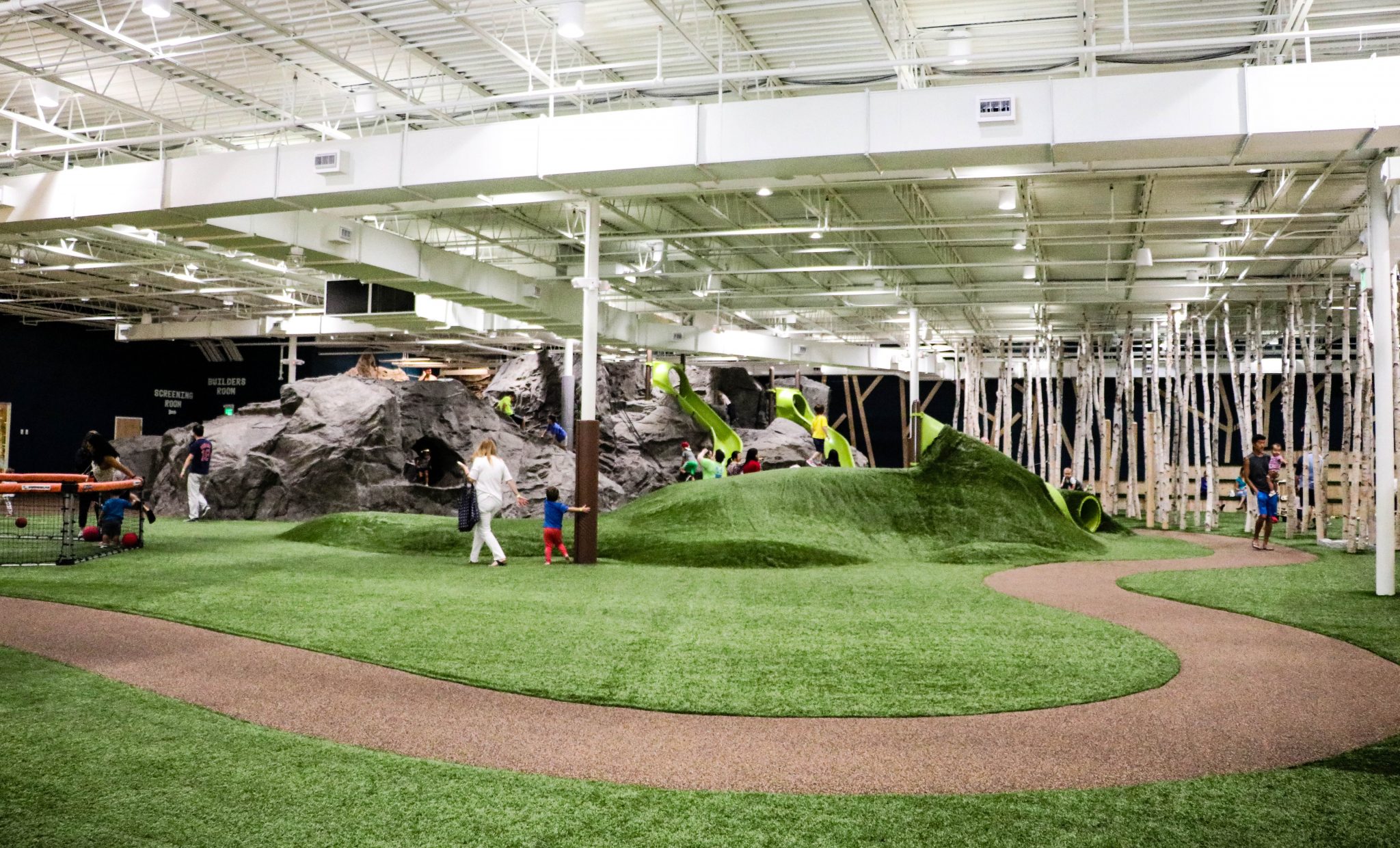 Author:

Amy Lynn

Posted:

August 28, 2017
Badlands Play Space in Rockville, Maryland is Nothing Short of Amazing
A couple of weeks ago, I spotted a deal in my CertifiKid daily deal emails for 50% off the Wings of Fancy Butterfly & Caterpillar Exhibit – Brookside Gardens in Wheaton, Maryland. The voucher was good for two people, either adults ($8/adult normally) or children ($5/child normally). Children under 3 are free. I snatched the deal up, but we would have to redeem it by September 4th. (The exhibit remains open through September 17th this year). So, I found a free weekend day on the calendar and put it on there.
Generally we don't drive out to Montgomery County much, unless we have to hit any number of stores you can only find over that way: Cost Plus World Market, Container Store, Buy Buy Baby, etc. But, luckily, I had recently heard of the relatively new Badlands Play Space (BPS) that opened inside a former grocery store. Their tagline: "Real Play. Inspired Learning." The photos I had seen online reminded me of the Mountain Lodge Play Center that we love in Arden, NC (near Asheville), so I thought it might be a good day to pair the two together.
BPS is located in Rockville, less than a mile off of Rockville Pike on Randolph Road. Introductory prices at BPS are subject to change, but currently $12.50 for under 3 and $20 for 3 and over. No admission charge for caregivers. The waiver needs to be filled out for all and can be easily done in advance on their website or upon arrival on a series of laptops in the lobby. Once you have signed and paid, next up is an orientation by one of the staff members. First we were all given wristbands, but they didn't relate to one another, like the ones at Port Discovery in Baltimore (to ensure you left with your child and only your child). He let us know that there are team members located throughout the play space and also let the older kids test out their bouldering skills on one of two manmade boulders not far from the lobby area.
Following orientation, we began to take the place in and explore. We immediately saw the four dedicated party rooms, in their modern and uniquely designed themes. They looked like cabins you might find outdoors. Well, the whole BPS center really was to mimic the great outdoors. No shoes come off here! There were pathways and astroturf and trees and mini mountains for the kids to climb, and run, and play, and burn energy! Nearby was a cafe, with a couple of flat screen TVs overhead, fully stocked with an assortment of meals, snacks, and beverages, including coffee drinks, as well as local craft beer and alcoholic beverages – nice touch for the moms and dads!
Behind the tree grove was an area with lots of materials to build your own construction project. Many families were building wheeled items, and some forts. Near here, a stony "brook" with a bridge over to a "campfire" area. There were plenty of stadium-style seats in this area, and since I'm 6 months pregnant, helped me to not have to get up and down off the floor. Once we played in this area for a bit, we asked our daughter if she wanted to go on the slides. She quickly nodded "yes."
Since our daughter is only 21 months old, we discovered there was no "easy" way for the littles to get up to the top of the slides. There are no stairs. Remember, this is to simulate the great outdoors. So, my husband carried her up to the top and she really wanted to do the tallest slide. It was a fast slide! The look on her face the first time she came down it was utter shock at the speed and I could see she was trying to slow herself down, which she proceeded to do. Once off at the bottom, she hurried over to the climbing area because she ended up loving it so much she wanted to go again. I got her part way up the wall to pass her off to my husband at the top. He even tried to put her on the next tallest slide, and she refused…she wanted the tallest one — over and over and over again! It was great watching.
After the slides, we went and checked out a fence-enclosed space for the littles to play with kickballs and the like.
Near here, we meandered over to the Workshop area. A separate room with some caged creatures, like frogs, a chameleon, and fish. They also had Play-Doh, books, and a craft project for the kids to make their own "parachute" that they could take home or test out right on the spot with a wind tunnel.
Near the Workshop was a Builders Room, which featured a large container of assorted LEGOs. And, beyond that, a "movie theater" style room with lots of Big Joe bean bag lounge chairs (in assorted sizes) on the floor to take a break and watch cartoons.
On the hour marks, a small butterfly "pavilion-greenhouse," opened up for guests adjacent to the Workshop. I'd say about 8-10 people can fit in here comfortably at a time. The staff member inside handed out magnifying glasses to each group so you could get up close and personal to the butterflies without having to touch.
We spent the remainder of our time here near the slides, including a smaller slide for the littles as well as a crawl tunnel. And, back to the construction area behind the tree grove. These were her favorite areas.
The bathrooms in the facility are also extremely well thought out. About 10 individual unisex rooms, all complete with pull-out changing tables. A lounge just outside the bank of restrooms allowed for larger families to have kids or adults wait while occupying one of the rooms. There were a couple of TVs here too.
The only thing I noticed is that there was no designated cubbies or lockers to put your personal items. So, a lot of folks were leaving stuff on the cafe tables for the time being. Just be careful what you take in, since you might not always be in direct line of sight to your personal belongings. They are working on getting lockers.
Birthday party packages currently start at $339 for 12 children for 2 hours. All catering for parties is done on-site, except for those with special dietary needs (Kosher, gluten-sensitive, etc.)
Overall, I have to say that the Badlands Play Space was nothing short of amazing. Not only will we be back, we're actually considering it as a venue for our child's third birthday party, since her second is already booked.
Hours:
Monday: Closed
Tuesday – Sunday: 9am – 6pm
Location:
5200 Randolph Road, Rockville, MD 20852
Disclaimer: BPS did not discount our admission in exchange for any review. We paid our own money and did this review on our own accord.
I can only imagine how crowded this place will be in the wintertime and on rainy days. So, if you or your child(ren) don't do good in crowds, pick a day that's nice outside to go.
---
After we spent about three hours at BPS, we headed to lunch at Chuy's Tex-Mex restaurant about a mile away with the intention of a quick walk-through at World Market. We did that and also walked to Micro Center at the end of the shopping center too.
By now, the little one was napping in her stroller and we managed to relocate her to the car without waking her up. It was about 5 miles to the Wings of Fancy butterfly exhibit at Brookside Gardens (a Montgomery County Park open to the public for no admission fee, as they thrive off of volunteers, donations, and special event fees). It was nearing 3pm and I knew the exhibit closed at 4 (according to the CertifiKid coupon). But, upon arrival around 3:20 we discovered you just have to purchase tickets by 4pm, as the exhibit stays open as long as the park does, until 5pm. We walked from the main Visitor Center about 5 minutes on trails that lead us back to the conservatory and butterfly pavilion. It was awesome. They had dozens of species of butterflies from around the world. Hundreds and hundreds of them flying around the room. Plenty of educational signage to help you learn about all the varieties and chrysalises to look at too. We spent close to half an hour in here before calling it a day and heading home.
If you live near Brookside Gardens and you have kids, it's definitely worth checking it out. If you live within a day trip, consider pairing it with Badlands Play Space, for a fun day for the whole family.
Hours:
April 26-September 17, 2017
10am – 4pm Daily
Location:
Brookside Gardens South Conservatory, 1500 Glenallan Avenue, Wheaton, MD 20902
Disclaimer: Brookside Gardens did not discount our admission in exchange for any review. We paid our own money and did this review on our own accord.
Saving Amy is a participant in the Amazon Services LLC Associates Program, an affiliate advertising program designed to provide a means for sites to earn advertising fees by advertising and linking to amazon.com.