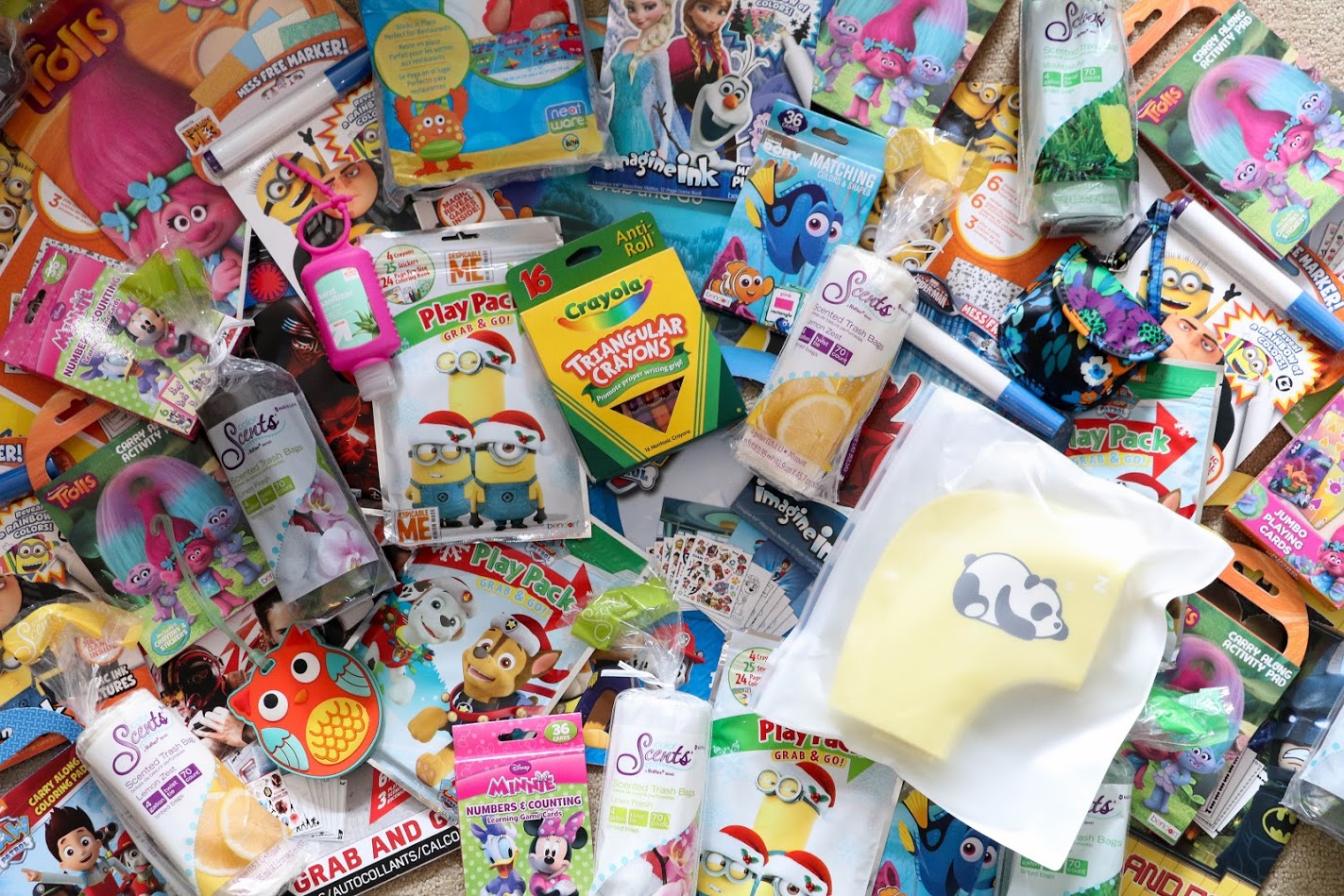 Diaper Bag Essentials Beyond the Essentials
With my first born now in the middle of her toddler years, and a newborn on our hands, I'm reflecting back on some of the less often thought of items you may want to consider stashing in your diaper bag and where to get them. Naturally you're going to have diapers, wipes, change of clothes, diaper rash treatment, emergency food, and a changing pad. But, let's take a moment to review other essential items that have been super helpful to my husband and I over the past two years.
Pacifier Pod
For all those times your little drops their pacifier on the ground, when you're out and about, or you simply forget to bring one with you, a pacifier pod attached to your diaper bag (full with a backup pacifier of course) can be a real life saver. We have Vera Bradley pacifier pods, which have held up well and we bought them during a sale two years ago.
Diaper Disposal Bags
If you like to recycle, your best bet here would be pre-used ziploc bags (just keep a few of these in your diaper bag at all times). However, I'm often finding we're changing diapers in the car where a trash can isn't always present and the bagged up trash needs to stay in the car for a short period of time -or- you're changing your little one at your friend's house and they don't have a little one whose diaper pail you can use. That's where Ruffies Color Scents 4 Gallon Trash Bags come into play. They will help mask the trash scent while it's bagged up in your car or diaper bag during that time. We always keep a roll in each diaper bag and in each vehicle too. (They make for good dog poop pickup bags as well). I first discovered these at my local Target store.
Head-to-Toe Body Wipes
The first time your little one throws up in the car, you'll appreciate having Johnson's Head-to-Toe Baby Cleansing Cloths. And, I'm not talking about baby spit-up, I'm talking sick kid. Kid vomit does not smell real good, and you're going to want to wipe up your little one with a cleansing cloth at your earliest convenience. I keep these in an old tote bag in my car along with an extra set of clothes, back up diapers, etc. for those emergency situations.
Travel Size Hand Sanitizer
Highly recommend a mini hand sanitizer that can be attached easily to your diaper bag. This will make it really easy to find, get to, when you need it quickly. I purchased mine at the checkout at Target. You can find these most anywhere, at your favorite discount retailer, grocery store, and online.
Travel Potty Seat
Once your toddler is going on the potty, the Jerrybox Foldable Travel Potty Seat comes in really handy on-the-go. I purchased two of these during the Amazon Prime Day 2017. They let you purchase one in each color to get the discount. Perhaps they will be on sale again in future Prime Days. There are several other brands that make travel potty seats that you may want to browse. The Jerrybox has a non-skid bottom, folds up into 1/4th the full size, and comes with a carrying pouch.
Luggage Tag
You should add a luggage tag to your diaper bag and each stroller that you have, even if you don't plan to travel. When items are grouped together at play dates, or in the event you may leave these behind somewhere, you'll be glad they were labeled. No need to put anything more than your name and phone number or email address. I also discretely placed a label with our family's name and a phone number on each stroller we own too, in the event one of them would be stolen. Easy and quick way to prove that it's mine. For luggage tags, any will do. I preferred the fun Kate Aspen Owl Be Seeing You Luggage Tag.
For Dining Out
High Chair Cover
If you're a germophobe, like me, you'll appreciate having one of these handy in your diaper bag or car for dining out. While you're kid is still going to end up touching gross things, on or under the table, or parts of the high chair, this will prevent much of the surface from being exposed to your little one's hands. We bought the Crocnfrog 2-in-1 Shopping Cart Cover | High Chair Cover during Amazon Prime Day 2017 while it was on sale. There are many cover products to choose from, but we've been really happy with ours.
Disposable Placemats
While we're on the topic of touching a potentially dirty table, let's touch on disposable placemats. It may be a good idea for you to always have one or two in your diaper bag. They are so incredibly lightweight. We're hit-or-miss if we use these. They don't stick to every kind of table surface and initially when we started to use these with our just-upright, under-age-one little one, all she liked to do was pull them back off of the table. We haven't tried one in a while, and we probably should. There are several to pick from, many with educational materials printed on them. Our favorites are: Neat Solutions Neat-Ware Table Topper and Neat Solutions Table Topper Disposable Stick-in-Place Placemats (Disney Pooh).
Triangular Crayons
Picking up crayons off the floor at restaurants gets real old real fast. Especially in the case where they accidentally roll off the uneven table. Why not pack an 8- or 16-pack of "anti-roll" triangular crayons in your diaper bag that can be pulled out at any restaurant? This also helps keeps germs at bay too, as several restaurants like to recycle their crayons.
Inexpensive Activities
Get to your local Five Below store on your own, without kids in tow, some time. Trust me. You'll find the best little carry along / grab-and-go activity / coloring pads, play packs, and even educational playing cards here. And, they're all cheap too. I load up and keep a bag full of goods that only my husband and I know about to back fill the supplies in our diaper bags as they get used. See the feature image in this blog post? Yeah, that's my current and ongoing collection. Pro Tip: don't bust any of these out of your diaper bag before your kid's meal arrives at the table. Or, they won't eat. These are for after eating. You may even want to toss yours in a bag when you go to a day-long outdoor festival, are holding down your place at your local Fourth of July celebration, or taking public transportation. Dollar Tree has some educational activity items too, but I find the selection to be a bit better at Five Below.
Edible Sticks
Any kind of skinny bread stick will do. I love the Pringles Stix variety. Break these into small, short pieces, that you can stick into your kids cut up food (meatballs, chicken, etc.) to make it easy for them to pick up food with their fingers while dining out. And, really…who doesn't love food on a stick?
Little One Utensils
And, let's segue into this topic. We always pack utensils for our little one, no matter where we are going. Silverware at most restaurants is just too hard to grip or long to use for a toddler. Bringing along our own brightly-colored plasticware for her, allows us to easily spot the pieces to pack them up at the end of dining too. For under two-years-old, I recommend The First Years Take & Toss Toddler Fork And Spoon Flatware and for over two-years-old, the IKEA KALAS Flatware Set. You may also want to keep Baby Spoons On the Go (Reuse, Recycle, Dispose) handy at your home too, in case you need to pack one for a special circumstance outing. Finally, another great option, if you'd like to keep a pack of utensils handy in your diaper bag at all times would be the highly-rated Mastrad Baby Lil' Fork & Spoon, which come complete with their own storage case.
Drinkware
We swear by The First Years Take & Toss Spill-Proof Cups – both Sippy & Straw, often which come in 3-packs at your local Dollar Tree store. They're also available at most supermarkets or discount retailers, such as Walmart. Our little one didn't like any of the fancy, more expensive cups we would often try for her. Because they are inexpensive, it was really no big deal to give them a try. They were such a hit with our little one…so much so, she now has most of her drinks out of them. Now know, they aren't completely spill-proof, so we just have to keep our eye on them and where we allow them in the house. We throw an empty one into our Packit freezer bag (I take it you've seen my Comprehensive Baby Registry Guide blog post?), along with backup meal food, milk, etc. This allows us to transfer the kid drink from a restaurant into the cup we brought along with us. Often the straws in kid drink cups at restaurants are so tall, it requires your little one to tilt the cup back so much so to get the straw in their mouth that they end up spilling a portion of the drink on their lap. We need to find a good pair of safe travel scissors (assuming our little one might get their hands on them if they're packed in our bag) that we can cut those straws with, but just haven't found an ideal solution just yet. Let me know in the Comments how you address this issue. I would love to know.
Hopefully I've helped you discover an item or two that might help you out in a bind. Do you have more "essentials beyond essentials" tips for diaper bags? I'd love to hear them! Let me know how I've helped and/or your tips in the Comments below.
Saving Amy is a participant in the Amazon Services LLC Associates Program, an affiliate advertising program designed to provide a means for sites to earn advertising fees by advertising and linking to amazon.com.