Downtown, Historic Frederick, Maryland "City Hike" Self Guided Tour
I developed this 5.25-mile* "city hike" route in 2003 and repeated it again in the Fall of 2005, for the Maryland Outdoor Club. I thought others might find it useful as well. I found it best to hold this walk on the same day as the annual In the Street** event, so that guests could soak in as much of the city as possible that day. There's no reason why this wouldn't be a good walk any time of the year however. If you start early or mid-morning, you'll be near Market Street by lunchtime.

*5.25-miles is approximate. If you explore any of the points of interest, especially go deep in the Cemetery, it will add additional distance to the walk.
Park by the Baker Park Tennis Courts located at:
College Avenue & West 2nd Street
This will be the start and end of the "city hike" loop.
Coordinates:
39°25'00.6″N 77°25'05.4″W
39.416844, -77.418165
Direction: Make a left turn onto the sidewalk on West 2nd Street and take this to just before Rosemont Avenue, where you'll find the first stop on the left.
#1 Schifferstadt
1110 Rosemont Avenue
Schifferstadt, named by Joseph Brunner after his childhood home near Mannheim, Germany, stands on its original site in Frederick, Maryland. Joseph and his family arrived in Philadelphia around 1729. In 1746 he purchased 303 acres of a tract known as "Tasker's Chance" from Daniel Dulany. Schifferstadt, the oldest known house on Frederick still standing, was completed in 1756. Schifferstadt's sandstone walls are two feet thick and its hand-hewn beams are pinned together with wooden pegs. Reinforced arches of stone above the windows and doors on the first floor provide support for the outside walls above them. The roof's unusual kick-up and flared eaves, tremendous "wishbone" chimney, paling insulated interior walls and ceilings, and exposed half-timbering make Schifferstadt an important landmark in the study of German architecture in Maryland.
Direction: Retrace your steps, however, when you see the first Carroll Creek (2a on map) covered bridge (red) in Baker Park, to your right, cross it. This will be prior to baseball fields and Culler Lake. Make an immediate left onto Carroll Parkway. In the same direction, take the footpath along Culler Lake, cross West College Terrace. Remain on footpath adjacent to Carroll Creek, pass the Tennis Courts and Community Pool. Turn left at the (2b on map) swinging foot bridge, cross it. Make an immediate right and continue on the footpath… (directions continue below point-of-interest #2)
#2 Baker Park / Culler Lake / Carroll Creek
2nd Street & Carroll Parkway
Baker Park is 44-acres, featuring a carillon, band shell, tennis courts, Culler Lake, a public swimming pool, and numerous playgrounds for children. Park features concerts in the summer, July 4th fireworks display, and numerous outdoor events throughout the year. The short, swinging, suspension footbridge originally spanned Carroll Creek at a different location in Frederick, but was later relocated to Baker Park.
Direction: (resume from point-of-interest #2) …and cross North Bentz Street, to take the sidewalk on the opposing side, make a right and in about 150-200 feet, you'll see the next stop in front of you, across West Patrick Street.
#3 Barbara Fritchie House & Museum
154 West Patrick Street
Barbara Fritchie became a legendary heroine for her reputed defiance of the Confederate troops, under Stonewall Jackson, as they marched through Frederick on Sept. 6, 1862. As they advanced past her home on West Patrick St., the elderly woman waved the Stars & Stripes from an upper window in this home. Her words later became part of a John Greenleaf Whittier poem from the Civil War. "Shoot if you must, this old gray head, but spare your country's flag."
Direction: Continue back on the footpath that follows Carroll Creek, towards and across South Court Street. Make your next right onto South Market Street. In approximately six blocks, with a slight uphill, you'll find yourself at the next stop.
#4 Mt. Olivet Cemetery
515 South Market Street
Mount Olivet Cemetery (circa 1852) is perhaps most well known for being the final resting place of Francis Scott Key, author of the Star-Spangled Banner. Near the entrance of this beautiful cemetery stands this fitting monument. At Mount Olivet Cemetery, you will also find many other memorials paying tribute to heroes such as Barbara Fritchie, confederate veterans, veterans of World War II, Thomas Johnson (first Governor of Maryland, and whose home is an optional stop on this hike), and fire and rescue services personnel.
Direction: Retrace your steps on South Market Street, heading north. In approximately four blocks, you'll find the next stop on the right side.
#5 Hessian Barracks (MD School for the Deaf)
101 Clarke Place
Built in 1777, the site is listed with the National/State Registry of Historic Sites. A Revolutionary War prison, the staging point for Lewis and Clarke expedition, a State Armory in 1812, a Civil War general hospital, the First Maryland School for the Deaf building, and more.
Direction: Return to South Market Street, continuing North. Once you reach Carroll Creek, hug the creek to the side you're currently on (don't cross just yet). Make an immediate right and follow the bricked promenade adjacent to the Creek. Here, you'll find the next stop. Give yourself ample time to explore the artwork on both sides of the Creek.
#6 Community Bridge Mural
Carroll Creek Promenade at Carroll Street
The Community Bridge mural project transformed a plain concrete bridge into a stunning illusion of an old stone bridge. Artist William Cochran and his assistants painted the entire structure by hand, using advanced trompe l'oeil ("deceive the eye") techniques. Many people walk by it and never realize they have been fooled. Once they grasp that the bridge is actually an artwork, visitors discover that there are mysterious carvings in the stones, images too numerous to count. They represent symbols and stories contributed by thousands of people from all over the community, across the country, and around the world. These co-creators have made Community Bridge an inspiring symbol of common ground. In early 1993, artist William Cochran proposed the bridge project because of the structure's strategic location at the urban center of the long-planned Carroll Creek Park, Frederick's key economic development project. Once the proposal was approved, the artist decided to invite 173,000 people, the residents of the area, to collaborate on this ambitious artwork. Countless ideas were collected, and they shaped every part of the bridge mural. You will also find Cochran's work in other spots in downtown, historic Frederick. See if you can spot any of them during the hike: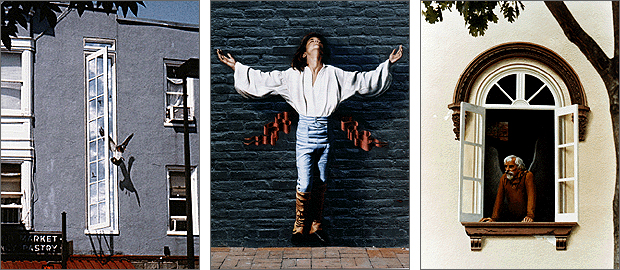 Direction: Once done at the Community Bridge Mural, make sure you are now on the other side of Carroll Creek. Take the Creek promenade further, towards South East Street. Make a left here and continue one block, where it will become North East Street. One more block, and you'll see East Church Street. The next stop will be on your right side.
#7 Everedy Square / Shab Row
125 North East Street, Corners East Street & Church Street
Revitalized former 19th-Century factory housing, 35 specialty shops selling antiques, clothing, general merchandise, home furnishings, gifts, and fine dining.
Direction: Continue one more block north to East 2nd Street. Make a right. Stay on this all the way back to your car at the Baker Park Tennis Courts (intersection with College Avenue).
Where you see the "O" marker on the map, that's Market Street, where you'll find plenty of places to pit stop for a bite to eat, drink, or shop. Some optional points-of-interest, located on Market Street, are noted below. This is also where the annual Fall In the Street festival is held.
Optional Tour Stops:
Recommended Eateries:
**More About:
In the Street
North Market Street
In 1983, major renovations occurred to Market Street in Frederick. The construction closed this popular thoroughfare to traffic, which made for a tremendous hardship to downtown businesses. Upon completion of the work, Mayor Ron Young, working with a small group of volunteers and Market Street business owners, decided to hold a celebration to honor the reopening of this prominent downtown area. The festival to mark this completion was dubbed 'In The Street.' The annual event spans nine city blocks from All Saints Street to Seventh Street. Local bands play on stages and each block has a theme.
Social Follow and Share
I've shared my self-created Frederick, Maryland "City Hike" (circa 2003) up on the blog! https://t.co/vxcLxG2Yb4 #frederickmd #cityhike pic.twitter.com/32QzlH9CnD

— Saving Amy (@savingamyblog) August 16, 2017