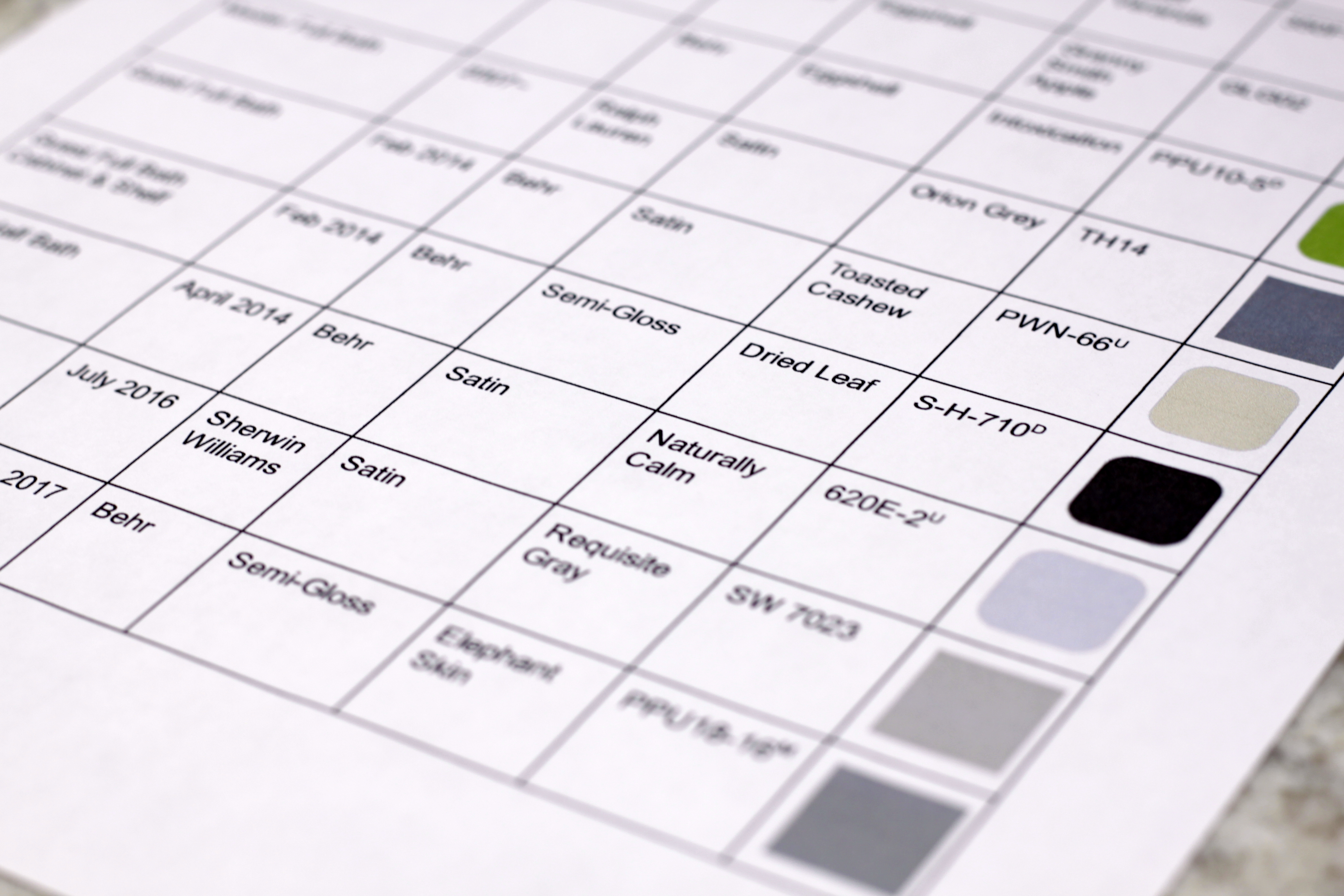 House Paint Swatch Chart Template on Google Drive [Free]
When I bought my first home in 2008, I was fortunate enough to be the third owner of the home since sticks up construction in 1977. The retiring couple who was passing on the property to my care, left behind an amazing gift: a well organized binder with all of the projects, etc. that had been completed in the home nearly 20 years back. Every system that was replaced, every major repair that had been done. Not only did this give me the reference point for vendors but it helped in maintaining the place going forward.
I made the house my home over the 6 years that I lived there. I replaced items that were worn out, like sink faucets, I removed the wallpaper and wall of mirrors in the half bathroom, repainted the whole house, recarpeted, replaced most every light fixture, etc. But, because of the binder I inherited at the time of sale, I was prompted to be cautious to document all of my upgrades too, for the next owners. By the time I sold, I had a file box that was neatly organized with all relevant house paperwork.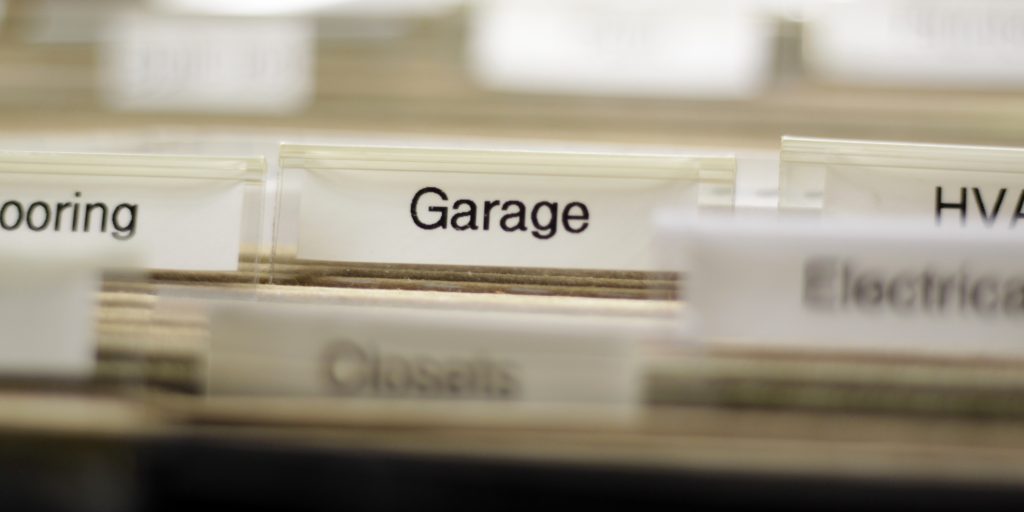 When I moved to my husband's single-family residence in 2014, I helped get all of our home's paperwork organized. We have any paperwork related to something permanent in the house in a well-organized file box with the address labeled on the outside, and then anything that will relocate with us to our next home in our main filing cabinet. One of the file box folders contains all of the paint swatches, as we've nearly finished repainting the entire house in the three years I've been there. We have the intention of selling in three years or less, which will make his stay 13 years total in the home that he built from scratch.
The paint swatches in the file folder only really tell part of the story. Most interior paints will only last about two years max was the containers have been opened at some point. So, they probably won't be around still by the time we sell. And, not only that, you can't tell the sheen that was used with the paints on the walls, unless of course you're an expert at that thing.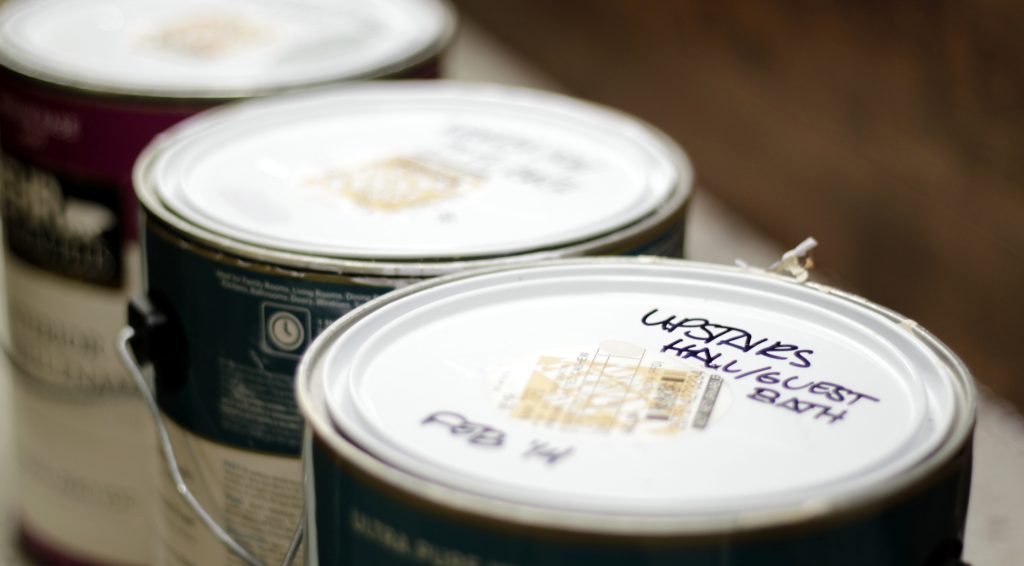 So, that lead to the creation of a Google Doc, where we can store all of our house paint information in one central location. Because the information is cloud-based, it makes it super easy to pull up in a hardware store when not home. And, it's super easy to color print the single reference sheet when needed to take along to the store to pick other colors. Now, our printer definitely isn't calibrated to perfect colors, but it is a good reference point.

This embedded Google Drive file is best seen when viewed on a desktop browser.
Now that you've taken a look at our example paint guide, perhaps you'll want to create your own? Copy and paste the contents of this template into a new Google Sheet file of your own, and edit. Just don't forget to delete out the rows you don't need and our paint color information or you might get confused down the road.
Note: the paint swatches were grabbed off the various paint brand web sites and added to the document in approximately 60×60 pixel size.
Another Wise Idea
If you are within a few years of selling and starting to neutralize your home's color palette, another task that you also may want to do is create a Google Doc to list out all of the improvements that you've done per room in the home. This will help when you eventually meet with your selected listing agent so you don't forget an upgrade that's something not easily seen to the naked eye.
Hopefully you find these ideas and template helpful as you begin to pull together your home documentation. Would love your feedback and questions in the comments below!
Social Follow and Share
It's time to get your #homeinterior #paintswatch organized! #googledocs #template #housedocumentation #funwithpaint https://t.co/XAyNrYVl9T pic.twitter.com/r6wu4up9SG

— Saving Amy (@savingamyblog) February 10, 2017
Related: