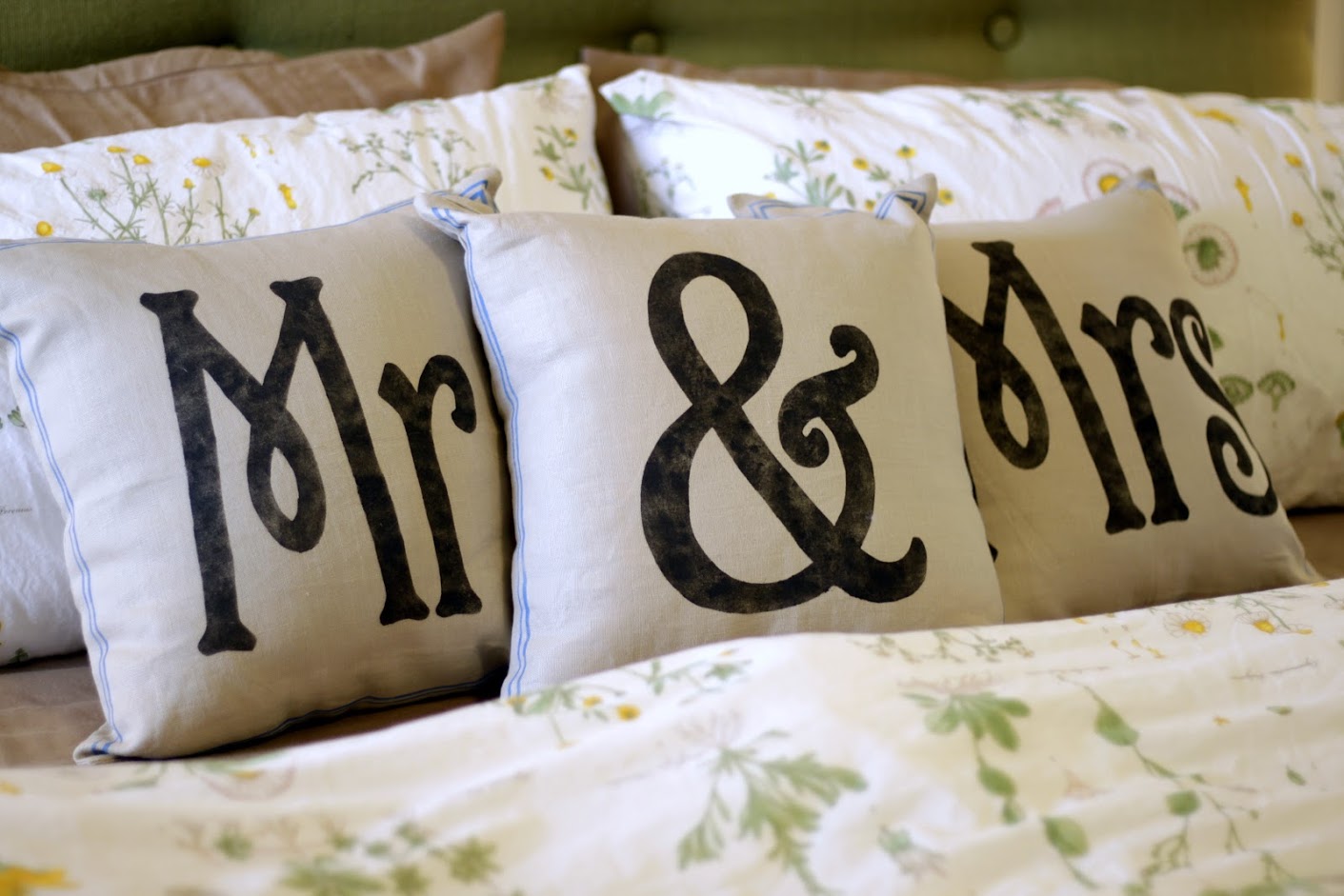 Master Bedroom Retreat: Wood Accent Wall & Upcycled Mantel Headboard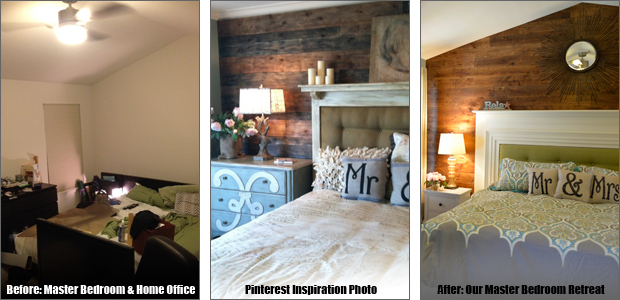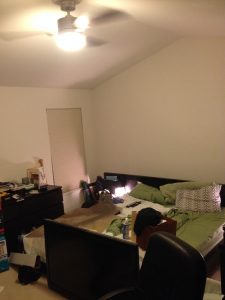 When I sold by home in 2014 to move into my husband's "bachelor pad," I knew we had a lot of work ahead of us to turn it into "our home" and a "retreat" that we would be happy coming home to. One of the first rooms we tackled on the redesign list, was our Master Bedroom.  We initially looked through some photos that I had saved to Pinterest for ideas.  There was one photo we both really liked and thought would be relatively easy for two avid DIYers to tackle ourselves.
The entire project took about a year, in mostly spare time and weekends (here and there, not continuous)! First things first, the bedroom and walk-in closet got a fresh coat of paint in Behr Gray Morning (490F-4) interior paint in eggshell finish. We even painted the wall that eventually would become the wood accent wall, so that if the project stalled out too long, the room would still appear cohesive.
Then, we completely redid the inside of the closet to maximize storage space.
Following the painting, we replaced the furniture pieces, bringing in a sitting chair we got on discount off the floor of Target, four pieces from Model Home Interiors Clearance Center (Elkridge, MD), including three which we repainted and replaced the drawer pulls on, a piece we got marked down from an antiques mall in historic, downtown Ellicott City, Maryland that was closing down (later replacing the drawer pulls with some that we found online), a bed with drawer storage from Pottery Barn (yes, we used a substantial coupon on this and opted for a higher-quality piece than some of the poorly-made pieces you'll find in a simple search), and finally a small piece from TJMaxx that we can set charging phones on in the corner.
We also nabbed a set of lamps at Model Home Interiors Clearance Center, a "Life is a Beautiful Ride" window painting from the Mushroom Festival in Kennett Square, Pennsylvania, a burlap pillow with our wedding date from Etsy, a dual-purpose vertical mirror at Ikea, and a faux peony flowers & vase online. For window treatments, we installed wood blinds from Lowe's and completed the look with curtains and rods from Bed, Bath & Beyond. We used ebates for shopping rebates and online coupons wherever possible.
Once these pieces were together, it was now time to tackle the wood accent wall. We found Birch Suede hardwood on deep discount at Wood Floors Plus in Glen Burnie, MD, after shopping around at several home improvement, discount lumber, and reclaimed lumber stores.  We were looking for something not only we would like, but already matched the other styles / colors in the house and a future homeowner would love it as much as we do.
The project consumed two full consecutive weekends. Once the baseboard trim was removed with a pry bar, the wall was marked with blue chalk to show where the studs were. Each board was carefully leveled, hammered into place with a rubber mallet after being glued, and then nailed inconspicuously along the tongue. Any scuffs were touched up with furniture markers. We had to remove the tongue off the row prior to the last row at the top, otherwise, there would have been no way to slip the final boards in place. We built a DIY jig (YouTube video referenced) in order to cut the pieces just right to fit into the vaulted wall space. We made sure that none of the seams vertically lined up from one row to the next, creating a brick-like pattern. Finally, we replaced the two electrical outlets in brown on the wall, to help "hide" them among the wood.
Once the wall was complete, we were able to reuse a "sun" shaped mirror I had purchased off of Amazon years prior, that used to hang in my living room. We had debated painting it to pop out more from the wall, however we ultimately left it the original color.
Following the wall work, we upcycled a former fireplace mantel that we found at the Second Chance warehouse in Baltimore, MD into our bed headboard. (We're still not quite sure what we're going to do with the little door we removed from it in the process, but we still have it).
Assembling the mantel was not an "easy" process, and took spare time on several sporadic weekends. We had to remove a small door and its trim that was on the side of the mantel. Following this, we lightly sanded the mantel and gave it a fresh coat of white paint. Once this was complete, we built a platform base for the mantel, which would raise it up high enough that you would see the tufted part of the headboard once final assembly was complete. In this platform, we had to drill holes to pass power through from the outlet that is concealed behind the headboard base. Next, we created a backer for the whole thing with particle board. Everything was then attached to one another and also attached to the wall for security (later painted those pieces brown to blend in).
Then began work on the tufted piece. Once the plywood was cut to size, with allowance for fabric on the sides, we lightly painted it white with primer. With some guidance from the Thrifty Decor Chic blog from here forward, we measured out the button locations to drill holes before the tufted piece was to be assembled. We put an inexpensive foam mattress topper, cut to the shape of our board, and several plush layers of batting stretched to the back on all sides, secured in place with staples. Following this, we added a thin cotton layer to the piece, in the same color as the burlap (as to make sure the batting wouldn't show through the burlap). We then applied the burlap, also with the staples. Next, we took waxed thread and a really, really long needle and one person fed this through the front side and another grabbing it on the backside to secure each DIY button. We started in the dead center and then did opposite corners, ensuring that the fabric was pulled neatly with each button attached.  The entire tufted piece was hung on the backer board with two picture hooks. This was assembled this way in case we need to break it down and move it to a later home. Joann Fabric was our go-to place for the batting, the green cotton fabric, the plain buttons, waxed thread, needle, etc. using their weekly coupons on purchases. The light olive green burlap fabric was purchased online at Big Duck Canvas Warehouse, rather inexpensively.
Finally, the room was just not complete without the Mr. & Mrs. pillows, as we had seen in the original Pinterest inspiration photo. Along with my mom's stenciling & sewing assistance, we DIY those accent pillows too. Found the Harrington typeface online, printed out a "Mrs" and a "&" to turn into stencils (the Mr can be done by covering up the "s" in the stencil to reuse). Also added a blue linear border around the edges to tie in the colors. They are closed in the back with wooden buttons.
Now, when we come home…we are on vacation.  Consider finding a photo you love on Pinterest and recreate your version of it in your own home.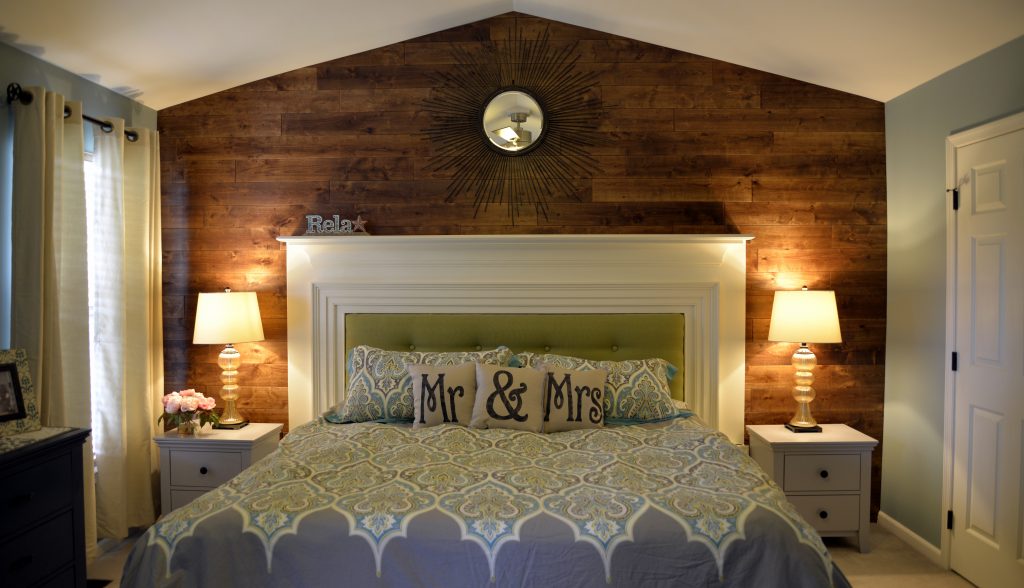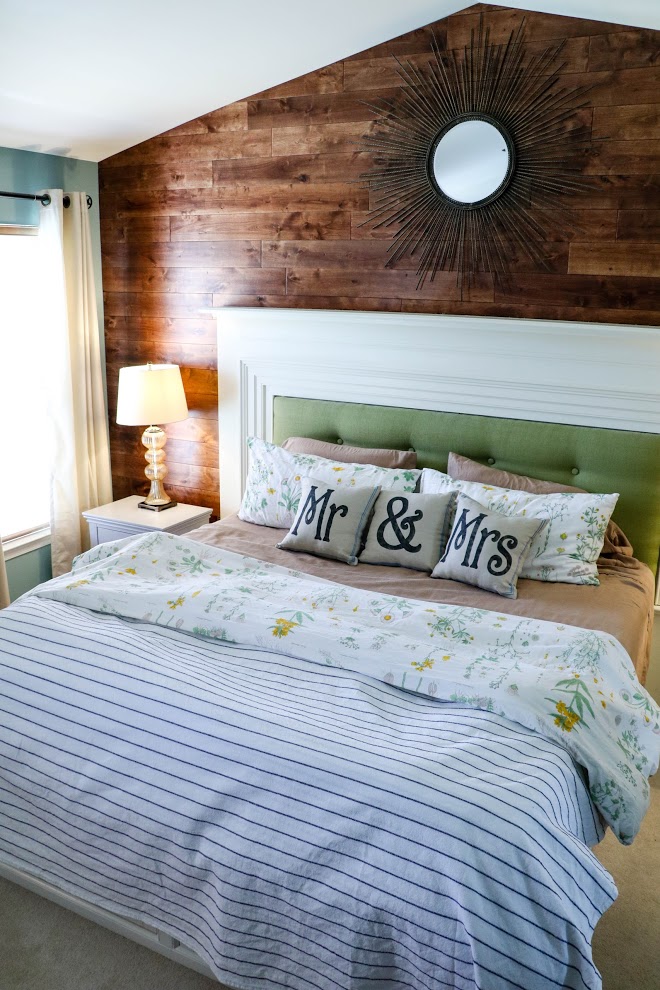 Related:
Social Follow and Share
New post on my blog: Master Bedroom Retreat: Wood Accent Wall & Upcycled Mantel Headboard https://t.co/fUXGp9ktYH

— Saving Amy (@savingamyblog) October 17, 2016
Saving Amy is a participant in the Amazon Services LLC Associates Program, an affiliate advertising program designed to provide a means for sites to earn advertising fees by advertising and linking to amazon.com.