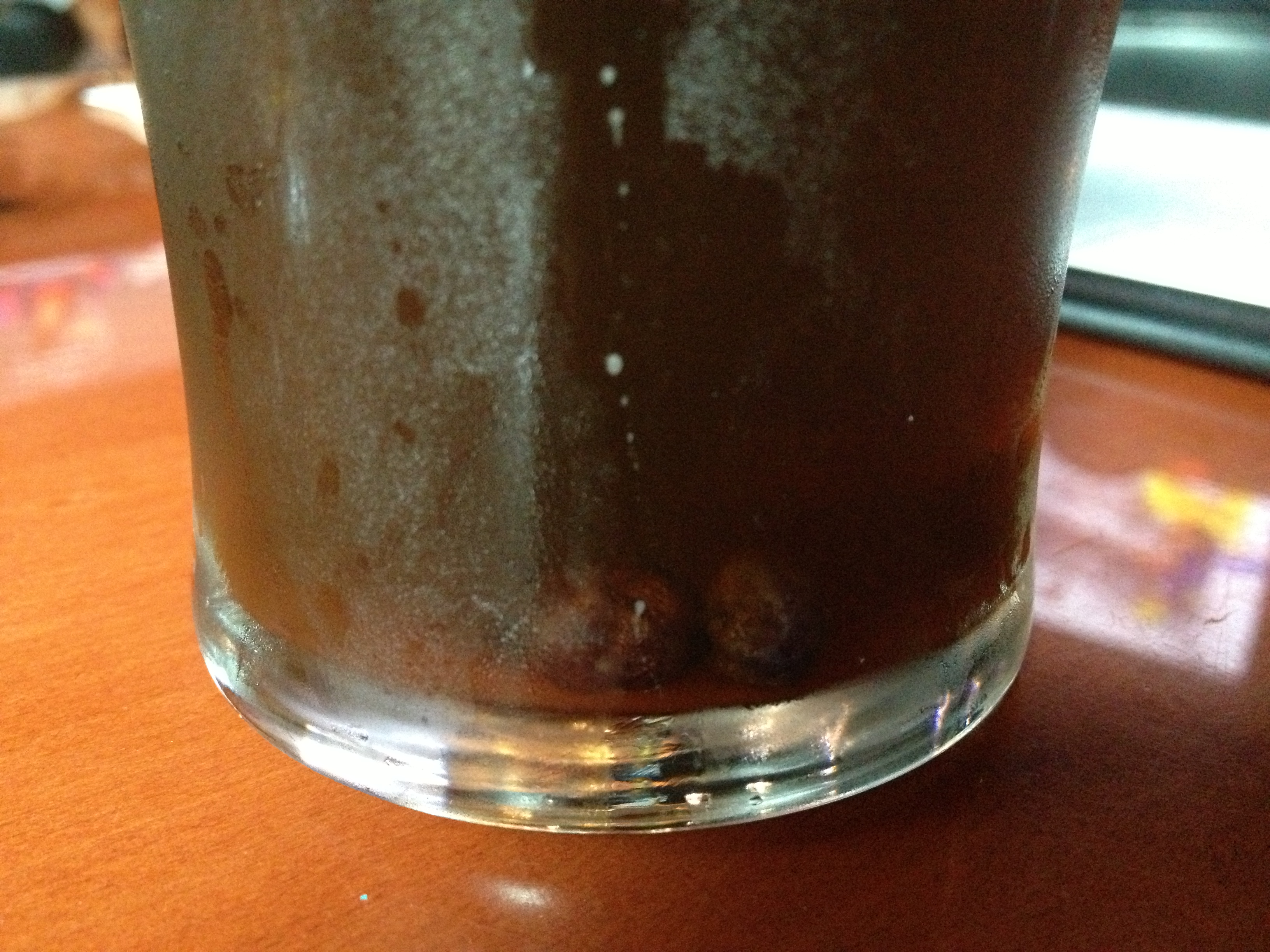 Visit to National Geographic & World of Beer in Washington, D.C.
I went into this weekend feeling a little under the weather with a mild head cold/sinus thing going on.  So, I took it easy on Saturday and watched the movie "42" that just hit RedBox last week, took down my deck pirate flags and decor (I'm moving in with the man soon), followed later in the day by a live MLB game.  By about the 5th inning, you could tell it was heading for an Orioles victory.  Not so much that the score said so, but because how poorly the Rockies were playing.  So, we decided to "toss a coin" knowing that Hopfest was happening at Max's Taphouse and we had six "Treasure Chest" scratch-offs to potentially redeem at Mutiny Pirate Bar (one of our favs) in the next 45 days.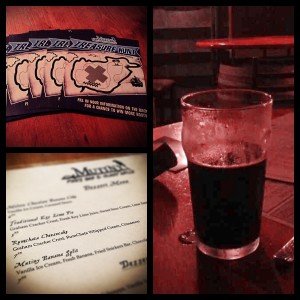 So, we opted for the pirate bar, where we had some late night, light fare and a couple of craft brews.  We both started with the Secret Stache Stout from Finch's Beer Co. in Chicago.  It was an impressive vanilla stout.  Our randomly selected scratch-off (from the six) yielded a free dessert and it was an obvious choice among the selections for some RumChata Cheesecake.  It was delish!
Sunday morning, we were going to "spur of the moment" take a trip out to Ocean City to play some mini-golf, get some Dough Roller pizza, and hang out in the sand and water at Seacrets before Mother Nature had other plans for us.  We got all suited up to head out, and when I went to let our three pooches out, I discovered the dreary day.  The forecast for O.C. did not look so kind either.  So, we went through a running log we keep of "date ideas" and remembered that the National Geographic Museum in D.C. had a Real Pirates: The Untold Story of the Whydah from Slave Ship to Pirate Ship exhibit.  That, combined with a couple of beer pitstops in the city we've been wanting to take and sure enough we had our new day laid out for us.
We don't get into D.C. nearly as much as locals should.  There's so much to see and do here, especially if you're into history.  D.C. is not easy to navigate by car, so we drove to our closest Metro station, Greenbelt, where we bought an all-day pass each for $14.  (Round trip to just Nat. Geo. alone would have been $7 each).  Then, we plotted out a few stops via Google Maps on our phone, discovering one of our beer stops was not far from the museum at all.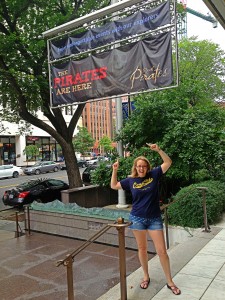 The Real Pirates exhibit was really something else.  A pirate ship that had run aground and sunk off of Cape Cod nearly 300 years ago in a bad storm, was discovered in the mid-1980's and bits and pieces were brought to shore.  This included a couple of canons, an anchor, dining items, and many pieces of eight (pirate booty).  The cool thing was, because this is a commercial museum (and not run by our nation's Smithsonian), it was only $11 each to access the entire museum including this limited engagement exhibit.  Most commercial museums in D.C. seem to set you back in the $20 price range (think Spy Museum, Crime & Punishment, and the Newseum).  The Real Pirates exhibit started out with a quick 4-minute video providing just enough history to get you started.  It took about an hour to navigate the exhibit, with reading the signage here and there.  An audio tour was also available for a nominal fee.  Photographs of the exhibit are prohibited, so there's only one way to see it.  This exhibit is closing down on September 2, so go now if you want to see it while it lasts.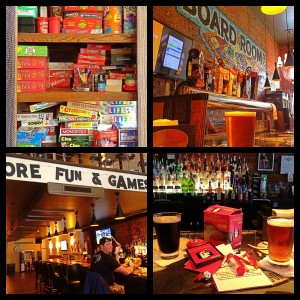 Following this stop, we returned to the Farragut North Metro station to go one hop to Dupont Circle, to see the relatively new Board Room bar (see: article about the Board Room DC's opening from September).  We knew they didn't serve food here, but we'd heard this was a great place for craft brew and board games.  For $2, you can play any one of a handful of games (including Cards Against Humanity, CAH).  They had about 20 craft brews on tap.  I went for the local DC Brau The Public (a pale ale) and Eric went for the Brewmaster's Reserve Dopplebock from the Brooklyn Brewery.  We gave each 3.5 bottle caps on Untappd.  Eric also had the Port City Brewing Porter for 4 bottle caps.  Though Board Room does not serve food, there are plenty of places nearby to pickup and carry in, including a Subway, Cosi, Five Guys, and Potbelly to name a few.  The atmosphere here was quite nice, it kind of felt like you were hanging out in a friend's basement bar.  They had an upper level, which we did not venture to explore.  But, you could hear a group upstairs getting into their game of CAH.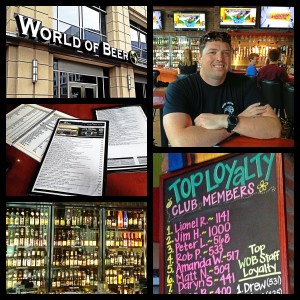 After Board Room, we grabbed a late lunch/early dinner at the nearby Five Guys and then hopped back on the Metro to head to Arlington by way of the Orange line.  Arriving at the Ballston stop, you come back up above ground to find yourself greeted with lots of upscale apartment and business buildings and a nearby mall.  We took a 2~ block walk towards the chain, World of Beer, that we know had opened within the last year in this area.  I had been to the WOB location in Ft. Myers, FL in April 2012, but Eric had never been to one.  And, though we know the Baltimore location is set to open soon (in the next 6-8 weeks), we just wanted to go check it out.
WOB has about 30-40 draft beers (including 4 on nitro) and pages upon pages of bottled beers.  It's all organized by what location (country or U.S. state) they are from, and the same goes for the organization of the shiny refrigerators too.  Here, I went for a draft on page 2 of the draft list, RJ Rockers Brewing Co. Son of a Peach from South Carolina and Eric went for Virgina Apple by Bold Rock Hard Cider.  Mine, a 4 bottle caps rating, his a 3.5.  Next, I went for a recommendation from a friend for a Sea Dog Blueberry Wheat ale (draft) mixed with a Young's Double Chocolate Stout (draft) with a few fresh blueberries thrown in for good measure.  Damn was this good. I would highly recommend it.  Eric went next for the monthly featured beer of Long Trail Brewing Co.'s Blackbeary Wheat, giving is a 3 rating.  He finished up with a nitro of Thornbridge Stout from Epic Brewing Co. for 3.5.
WOB is know for its beer selection, duh.  So, don't come here expecting a hearty dinner.  What I did notice however, that unlike the Ft. Myers location that served no food, there is a decent selection of appetizers here though.  And, some nearby patrons were playing board games (sound familiar?) …and I'm guessing those belonged to the bar.  (Who ever said that you can't find anything to do on a rainy day)!
Our server Denis was well versed on beer and anything we asked that he didn't know, he was quick to get us answers.  I would definitely ask for him again if we went back.  Denis explained to us about the Loyalty Club Program at WOB.  For $15, you immediately get a WOB Loyalty Club t-shirt, branded with the location that you join (Arlington, VA and not Washington, DC is on this shirt), and you get a plastic membership card.  Your credentials are recorded in the system within 2-3 weeks so that if you forget your card, they can still look you up in the system.  The big difference with this beer club is that it's good at all WOB locations, no matter where you are.  Knowing that the Baltimore location would soon be opening, we opted in.  At different "levels," you continue to receive different rewards, but no discount on beers (as we've seen other beer clubs do).
By now, the evening was rolling in, so we hopped back on the Metro for home.  We're saving another pit stop that was a contender for another day, the Biergarten Haus.  It just didn't look too accessible for a hop-on, hop-off Metro kind of a day.  Don't you worry though, we'll get there soon.
So, in this weekend fit for beer-lovin' pirates, we managed to make the most of a rainy day.  And, we'll try for Ocean City next weekend…