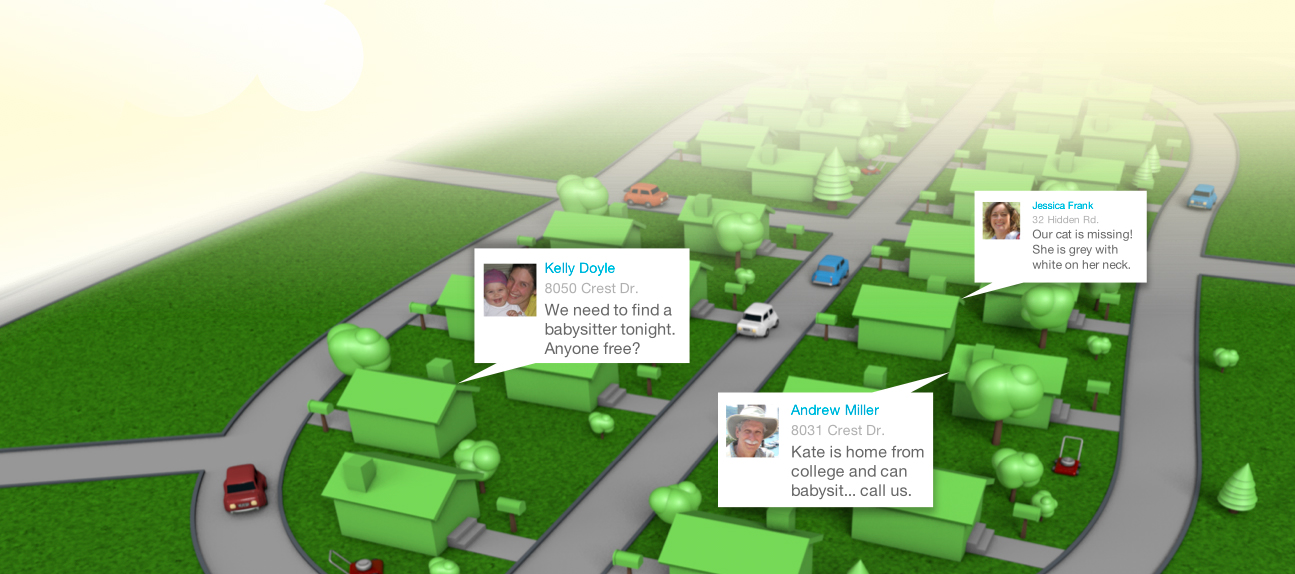 Private Social Network for Neighbors: Nextdoor
Nextdoor is the free and private social network for neighbors. On Nextdoor, neighbors can share crime and safety concerns, local events, recommendations, items for sale/free, ideas about how to make your neighborhood better, and more.
If you establish a brand new neighborhood on the site, you'll be prompted to invite your neighbors to join in order for your neighborhood site to "stick."  If your neighborhood already exists, and you'd like to join, you can do so through confirming your address (typically through a postcard in the mail with a unique code) or by a Nextdoor community Lead who knows you personally and can approve you.
Once you're on your neighborhood's private virtual community, you'll be able to browse your neighborhood directory in alphabetical order or by a map.  So, if you forgot Mr. Jones' first name, you can look it up.  You can source your photo from Facebook or upload one — to help your neighbors recognize you.
Additionally, there is a "Status" wall, similar in style to a social networking site. Here, you can post a Message, Event, Poll, or Urgent Alert.  The first three, will prompt you for the audience for the message.  Does your audience apply to your neighborhood only?  Perhaps it has a wider net and can go out to your neighborhood plus any of the neighborhoods that touch the boundaries of your neighborhood?  Or, maybe it should go to one of the groups established for your neighborhoods site (i.e., a private group for your HOA board).  The fourth option, for Urgent Alert, will distribute your message immediately to your neighborhood only via both email or SMS text message (whichever method your neighbors requested on their individual profile).  This should be reserved for prompt security and safety matters.
Next, you'll be asked to choose the applicable Category for your post, from: Classifieds, Crime & Safety, Free items, Documents, Lost & Found, Recommendations, General.  If you select Recommendations, you'll be asked for a Subcategory and given recommendations of category names.  This allows anyone in your neighborhood to look up previous service recommendations as well.  Documents will allow you to store important neighborhood files, like those distributed by your HOA.  Messages and Events allow you to attach photos, which are helpful to give your site some visual appeal.
You'll find several easy ways to promote your neighborhood's site, from Email to Postcards to Flyers to Links.
Setting up Your Profile and Settings are fairly straightforward and allow you full control over the email and SMS messages that you receive from posts.  Additionally, there are neighborhood admin controls given to Leads in the community.  Leads are often: the person who established your neighborhood's Nextdoor site and anyone that they have given Lead status to.
Nextdoor is also a sponsor of National Night Out, the nation's largest annual crime prevention / safety event, and gives you an easy way to promote your neighborhood's National Night Out event, create an event listing, and print customized flyers from your event page.  During Halloween, you can note if you're giving out candy with a piece of candy corn on your house on the neighborhood map.  And, during the winter holiday season, you can mark that you are displaying neighborhood cheer on the map as well.
Remember, when posting that you are looking for child and/or pet sitting services, to give very general time frames until you are in direct conversation with someone.  Just because the site is private to your neighborhood, doesn't necessarily mean you know everyone face-to-face just yet.
Related:
hocoblogs@@@