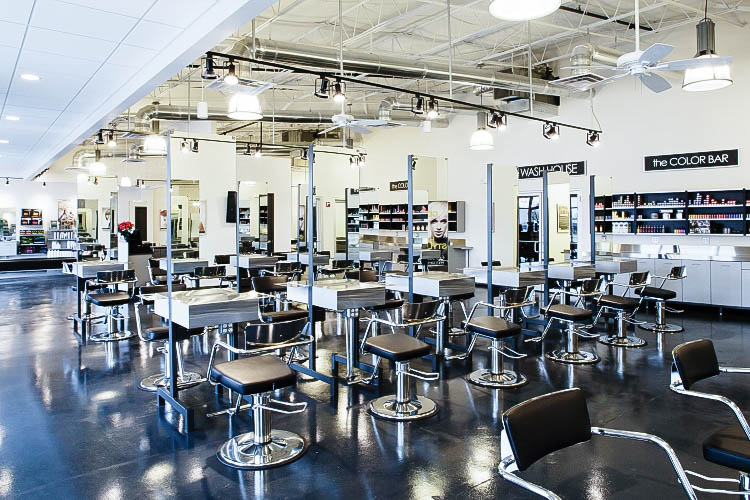 How to Save Money During a Trip to the Hair Salon
When my now husband and I got engaged in 2013, we were both mid-30's, set in our own spending habits, both had single-family homes in Central Maryland that we were paying mortgages for, and overspending in discretionary money. We were both doing a really good job at saving, but knew we could be doing much better. It was around that time that I downloaded the Clark Howard weekday podcast for free to my iPhone and started listening on my way to and from work with the Bluetooth connection in my car. I just have it set to autoplay when I get in the car now and it will pickup where I last left off. By gaining knowledge and insight from the show, we were able to take a hard look at our finances and where we were currently spending money to see where the obvious and immediate places where we could cut back. We created a master budget of current expenses and areas to improve and set goals.
One of those was my hair salon visits. In Howard County, MD, you're looking at a minimum of $60 for a women's wash, cut, and blow dry…and often times it was more realistically $85 depending on the individual stylist's "level of expertise." I was often curious how much of that the stylist got to pocket versus what goes to the overhead of the facility, management, ownership, etc. But, that's a story for another day… With another 15-20% suggested gratuity on that amount, you were around $100 and that didn't even include the tip for the person who washed your hair / massaged your scalp. With the average hair cut falling about ever 4-6 weeks (let's say 5 to be average), you're looking at $1,000 annual in trips to salons. And, this is just for a basic women's cut, not including highlights, single process color, permanents, etc.
I just felt like that was too much of my hard earned cash to be putting towards that. And, I'm just not the biggest fan of el-cheapo Hair Cuttery for women's cuts.
In comes my discovery of the Paul Mitchell The School (PMTS) in Jessup, MD.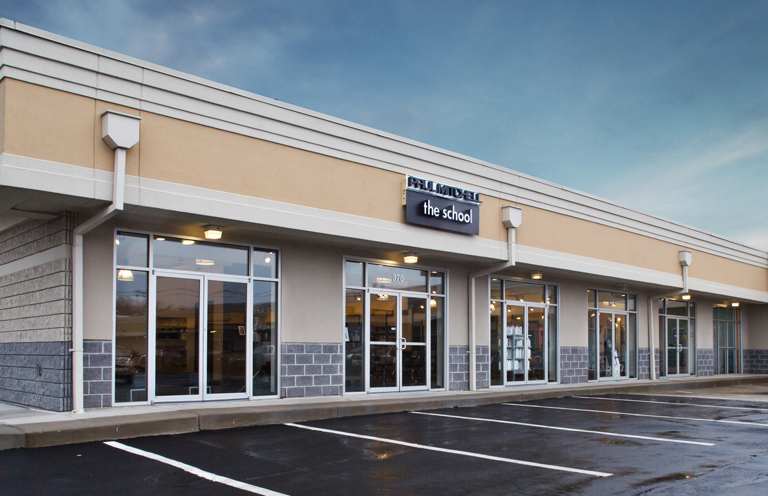 I called about a week and a half ahead to get an appointment on a Saturday, as that is quite definitely their busiest day of the week. (All the folks who work full-time weekdays and/or have a special occasion on Saturday, ALL come in that same day). I also booked my husband to go at the same time.
On that visit, I had a really cute cut, full foil highlights, and style, which in total took about double the time it would have taken had I gone to my former salon. All in all, I think it was about 3.5 hours. Now, not everyone has the time to do this, I know, but I find that if I'm just going for a cut, it's more like 60-75 minutes to wash, cut, and blow dry. In March 2016, shortly after my first one was born, I had my hair dyed back to as close to the root / natural color as possible, by a PMTS student. I was "done" getting highlights from the past 15 years, both financially and for a time-saving measure. The frequency of keeping up with it for me was low around 3 to 4 times a year, but not really something I needed to do. I was finally going to embrace my natural "caramel" hair color.  It took another year or slightly more for that dye to grow itself out and I was back to a full head of my natural color.
All of the "stylists" at PMTS are students, with a certain amount of educational hours and "leveling-up" under their belt. Most of the stylists that I've gotten are "Level 2" students. They review with you your hair care history, requests, etc. all before getting started. You have to sign off and they have to get an instructor to come review everything and also sign off. Then, they wash your hair, dye and or cut to your needs, and blow dry, style, all the while being monitored by instructors walking the floor.
In the past 3 years, I have been to the PMTS Jessup about two dozen times. I think on one visit I requested a student stylist I had previously, but the day I showed up she wasn't in and have ended up with unique, non-requested students every time. My experience overall has been a good one. I think just once I ended up with a gentleman that I could just tell from the outset didn't have the confidence needed to cut my hair with requested layers. That appointment took forever since it involved an instructor much more than usual.
I've actually had my absolute best experiences on weekday lunch breaks there. It much less crowded and high-paced, therefore the students are getting a lot more attention from the instructors monitoring the floor. I have also been able to book weekday appointments just a day or two in advance.
Today…
After my layered cut from about 6 weeks ago at the PMTS, I decided I was "done" with the "rat tail" feeling that my longest layers were giving me in the summer humidity in Maryland and decided to get them cut off and leave the other shorter layers alone…to eventually let it all grow to the same length down the road. I had a cut with a bit of angling towards the front, in order to have it all look seamless and rest off my shoulders. I was really happy with the finished result. Guess how much I paid for this wash, cut, and blow dry? Would you believe just $14! That's a substantial drop from $85!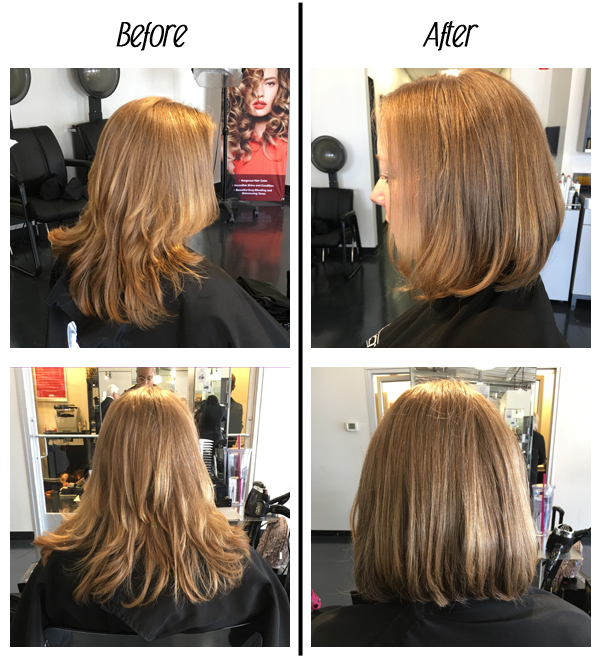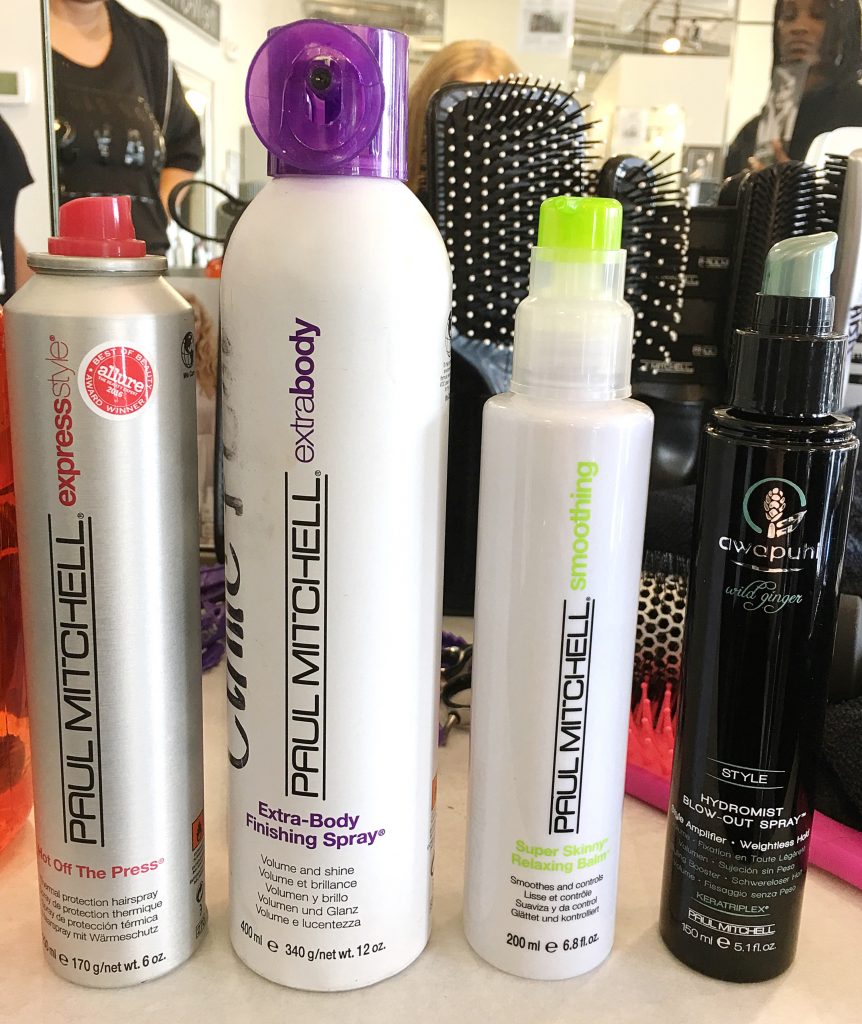 I guess you have to weigh the pros and cons if you go this route though. For trading in your experienced stylist, you're going to get a student, and it's also going to take about twice the standard amount of time you are used to. They don't rush…they are learning, and there are a lot more hands on deck, with the instructors keeping a close watch.
They allow you to apply the gratuity to your charge and get cash out at the register. Since I'm saving so much, I still tip these students (so long as they are good) at the same rate I would have been tipping on the $85 haircut. They are still providing the same service after all and they are not getting to pocket any of that fee that I pay the school. I heard from the girl at the front desk that I'm generous with my tipping but it builds their confidence when I do that. I really don't mind. So, bringing my $100 haircut (or $200 haircut and highlights occasionally throughout the year) down to just $30, I approximate that I'm saving about $1,000 a year in trips to the salon.
Interested in giving PMTS a whirl? Here's the current pricing sheet and contact information to schedule your appointment: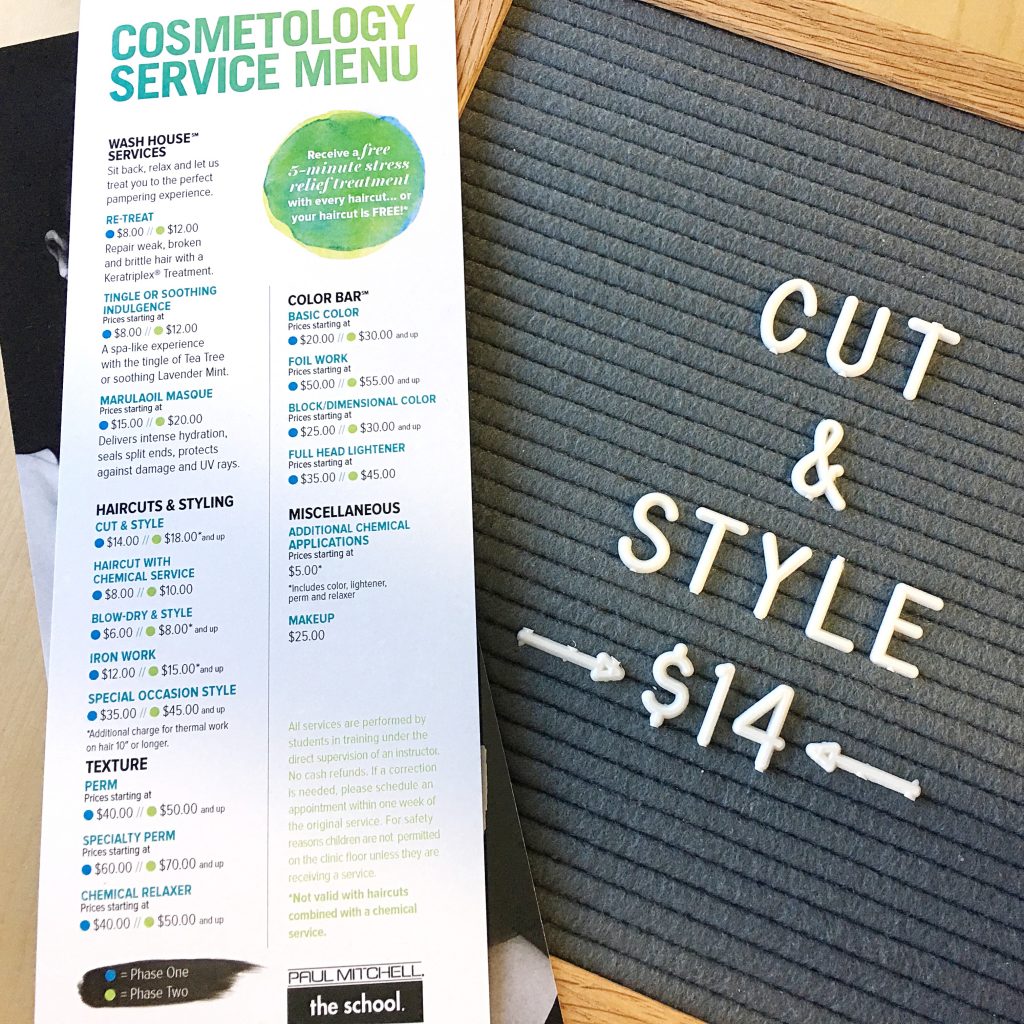 Paul Mitchell The School
7351 Assateague Drive (Map)
Suite 370
Jessup, Maryland 20794
443-661-4173
paulmitchell.edu
Perhaps you don't live in Central Maryland and/or another location nationwide that PMTS serves, the whole purpose of this post is two-fold: A) Examine your spending habits on a regular basis and see where you can cut. B) It may require some digging, but you just may find a trade school operating near you. Auto mechanics, culinary, and beauty services are a few that come to top of mind.
I want to hear about your PMTS or trade school client experience in the Comments below!
Note: I may be really passionate about PMTS, but I was in no way paid or endorsed to voice this opinion of the establishment. I paid my own money, spent my own time (on several occasions).
Social Follow and Share
I scored a women's cut & blow dry for just $14 today and no, it wasn't at the Hair Cuttery. 😀 Read on: https://t.co/25OgKTXnQT #haircut pic.twitter.com/kipfaFL5Ov

— Saving Amy (@savingamyblog) June 24, 2017
Saving Amy is a participant in the Amazon Services LLC Associates Program, an affiliate advertising program designed to provide a means for sites to earn advertising fees by advertising and linking to amazon.com.