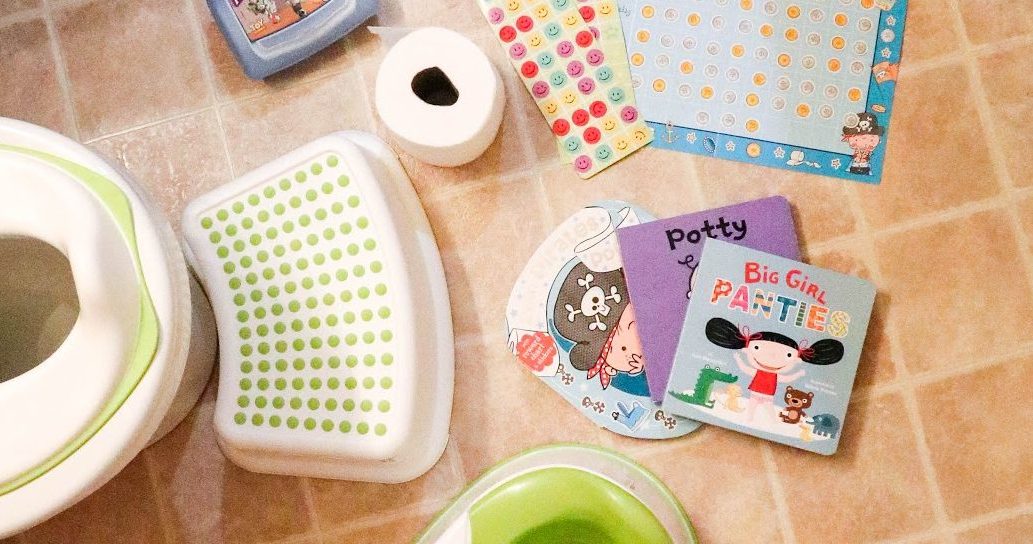 Two-Day Toddler Potty Training Method: Tips, Tricks, Gear
Let's face it. Sooner or later, that snuggly, little babe of yours is going to graduate to big girl or big boy status. And, for most of us, that happens all too soon. They'll need to learn to use the toilet, move into a bed and out of the highchair.
Our daughter started to show signs of interest in the potty around 20-22 months old. I was relatively pregnant with her brother then, due around the time she would turn two. My husband and I didn't want to spring too much on her at once, so we made the decision to work on "round one" of potty training after a) baby brother settled into our home, b) road trips were settled down for a while, c) house guests were to a minimum for a while, and d) I was still on my 12 weeks of (all too speedy) maternity leave. With the busy holiday season falling in line with my leave, that left us with the last two weeks of my leave for training. We didn't want to wait too much longer because a) we were concerned she would get set in her ways with diapers and b) taking advantage of my time at home on my leave.
We decided to pursue the "two-day method" as outlined on the Lucie's List web site. I referred to this method of potty training as "ripping the bandaid off."
Further Reading:
Some of the reasons we settled on the two-day method (per the "Methodologies" review on Lucie's List, linked above):
With this method (the original Azrin and Foxx method), a researcher reported a 74% success rate for kids under 25 months and a 93% success rate for kids over 25 months. Eight weeks after training, kids averaged less than one accident per day (Butler, 1976).
And:
As one veteran mother put it, "Use the 'child-oriented' method and it'll take a year; use the two-day method and it'll take a week."
This selected timeframe for us was around 26.5 months and as we Googled to ease our minds we weren't starting too soon, we found this from the University of Michigan Health System web site:
The physical maturity and readiness skills needed for successful toilet learning appear at the same time in girls and boys-between 18 and 30 months of age. The average age for girls to be toilet trained is 29 months, and for boys it's 31 months.
Though she showed signs much earlier, we knew there were some readiness skills she was still lacking (pulling clothes up / down on her own, the communication skills, etc.) For those of you that have been following my blog for some time, you'll know that my husband and I are adamant on teaching our children some basic American Sign Language (ASL), to help get us through the toddler years. Starting around 24 months, we started watching the Potty Time video (we downloaded the digital version to her LeapPad), by the same production company as Baby Signing Time (BST), to get her familiar with the signs to tell us when she had to recognize the feeling and tell us to stop what we're doing, she has to go potty. The songs in the short videos are quite catchy and it makes learning the signs for both kids and adults easy for all. She had the signs down relatively quickly, and picking up speed on others we had been watching for two years now in the BST 4-disc series. We also found short videos to watch on YouTube that featured Elmo (or "Melmo" as she calls him) while sitting on the toilet, however we found that the more invested she got in watching a digital program, the less focused she was on thinking of going. After a few days, we had to temporarily pack up her LeapPad, etc. Books in the bathroom seem to work just fine.
Just before 24 months (around the time she started showing interest), we added to her nighttime book rotation a couple of books on the topic: Even Pirates Poop – which comes complete with a sticker reward chart and I found inexpensively at our nearest Marshall's discount store (I picked up all three copies they had in stock for a fresh sticker reward chart to use with future children), Potty – which surprisingly has very few words in it and our daughter loved it, and Big Girl Panties. This would start to familiarize her with the topic and key words. I mean, it's also known as "elimination communication" and now I really know why. It's all about the recognizing one has to go and communicating that to a caregiver. The rest, the caregiver can assist with until the child matures to do more on their own.
Once we had our weekend picked out, I marked it on the calendars so we would keep everyone's schedules clear. Early that Saturday morning, when we got her up, we made an "assembly line" from where her diapers were in her room to her closet and put her in the middle (she loves to help us with everything we do) to allow her to be part of the process with "packing up" diapers. We made it fun and explained what we were doing (saying "bye" to diapers). We reminded her she was a big girl now. Day one went like a charm. Immediately after coming downstairs, she physically pulled her toddler toilet over to her arts and crafts table, sat down, and went. I think we had one accident that day. Day two, we moved into leggings, as the method was recapped on the Lucie's List site and it was a "no go." Three back-to-back accidents immediately that morning. We realized that the leggings were too reminiscent of diapers. We reverted back to day one until we could get that down solid. By day three, after she had successfully gone in the morning, we decided to introduce underwear without the leggings just yet. One accident on day three. Day four, after going on the potty in the morning, back in underwear, and this day we reintroduced leggings. One accident that day as well. Day five, we sent her back to her in-home day care (I had sent our primary day care contact an emailed link to the method we were using and supplied her with extra undies and leggings following the long weekend of training). Our little guy was then about a week away from starting the same day care and we wanted to make sure her caregivers had time to work with her on the training before introducing her brother to the mix. Day five, she had just one accident all day and it was at day care – rats. Kinda hits you hard…you just don't want to make work for people that already have their hands full. I heard it was a little busy there that day. She tends to have accidents when she gets distracted and forgets. Day six and seven were both COMPLETELY accident free, sun up to sun down. Day eight, a set of Ashley's grandparents visited, but we kept a close eye on her that day and again just one accident that evening. On day nine, the Sunday following the weekend we started, we decided to venture out of the house (for longer than her trips to/from day care). We took her to our nearby mall, to spend $5 of $10 that her grandmother had mailed her as a reward for doing so well with the training. (The other $5 she put in her bank). We figured it would be easiest on her at Five Below. She immediately honed in on a $1 Paw Patrol Coloring Paint Set and a $2 set of Trolls stickers. This was her very first purchase with her own money ever. Proud moment. After the mall, we went across the street to the grocery store for one item before returning home. At both the mall and the grocery store, we reminded her to tell us if she had to go and also showed her where the restrooms were (putting her on the potty at both places). No accidents at our 90-minute round-trip outing. So, nearing two weeks in now, we have approximately one accident a day, which is no big deal to us as she's learning and will soon outgrow the accidents.
This two-day method, that turned into two days of both of us working with her, followed by day three and four of me alone working with her (while my husband was off at work) and tending to her infant brother and my own breast milk pumping schedule was brutal. We were extremely exhausted, sleep deprived yet again, and our backs were killing us (from lifting her on and off the toilet and sink step stool mostly). Each evening, after the children were off to bed, we would sit and chat about how we thought it was going and to decide to keep pushing on. As you'll learn from this particular method…once you say "bye" to the diapers you don't reintroduce them (except just as "naptime" or "nighttime" undies) at all. Once you give in to what's "easy," you're child will think you weren't serious.
Potty training takes serious investment and commitment from both parents. As nice as you might find the lessened cost of the diapers, the diaper changes, etc. now you'll have to constantly think about where the closest restroom is at all times. Be sure you're both ready for this before you get started.
Also, as the Lucie's List two-day method recap suggests, don't change your child's diet while going through this. On the same day we made our 90-minute round-trip run out of the house, I found out my husband had given our little lady three prunes with lunch. Not a good idea we learned, luckily, after returning home that evening.
Gear
Now that I've reviewed some of our particulars from the process, I'll call out a few other gear items that really helped us on our journey. And, fingers crossed, looks like "round one" is turning into our only round after all. I hope it does for you too!
Toddler Potties and Steps
Unlike the sink step stools (which are a little taller and the Samsonite brand I note under section "Bath > Step Stools" in my Comprehensive Baby Registry Guide blog post), we bought her FORSIKTIG steps (one for each bathroom in our home) from our nearby IKEA store. We also picked up a LOCKIG toilet (just one for the main level of our home) and TOSSIG seats while there too. Much less expensive when you purchase these items direct at IKEA. All inexpensive and simple products. We put these in their respective locations around 24 months, knowing training was a few months off yet. This would familiarize her with the gear and also to help her think it had always been there waiting for her. She would often sit on the toddler toilet with her clothes (and diaper) on, one of the ways she was showing us she was interested to learn how to use it.
Potty Hook
Our powder room is teeny tiny and there's not much room for book(s), a sink step stool, potty step stool, and toddler potty seat to lay around the floor. In comes the Idea Factory Potty Hook, which at least gets one of these items up off the floor: the toddler potty seat. Ubbi, the maker of popular diaper disposal pails, also has a product of similar nature (and price) too.
Travel Toilet Seat
As noted in my recent Diaper Bag Essentials Beyond the Essentials blog post, my husband and I each ended up with a Jerrybox Foldable Travel Potty Seat in our diaper bags following the 2017 Amazon Prime Day. Highly recommend having a travel potty seat on you if you leave the house a lot with your little one.
Piddle Pads
Summer Infant Deluxe Piddle Pads are waterproof and protect your child's car seat and/or stroller during potty training, from the occasional accident. Easy to wash and quick drying too.
Reward Item: Stickers
My husband and I have been in and out of Weight Watchers over the years. We don't want to get in the habit of incentivizing and/or punishing ("you must finish everything on your plate") with food. Not to get too much into it, but we've heard way too many stories from the emotional eaters in the meetings. Our take is, as long as she tries everything on her plate, that is a win for us. She doesn't have to "like" everything, just "try" it. And, we certainly don't want to make her eat if she's not hungry. She knows when mealtime falls and if she decides not to eat her dinner, she knows when the next meal comes. We decided to incentivize potty training with stickers. However, this waned very quickly. It took just a day or two for the actual accomplishment of producing in the potty and celebrating to be the actual reward. We believe it didn't take long for her to not really care about the sticker earning. It was just something we continued to do to pat ourselves on the back. (We also kept a running white board just between us to keep track of both goes and accidents too).
Flushable Wipes
We heard it's a transition to go from wet wipes to toilet paper, so we bought a sleeve of Huggies brand Pull-Ups Big Kid Flushable Wipes for each restroom in our home. We didn't end up using these much. She was too enthralled with her ability to finally use toilet paper herself. We tended to use them to clean up #2's.
Timer
While you can opt for a simple, already-on-hand, kitchen timer to mark the 15-, 20-, 30-minute marks to remind your toddler to think through if they have to go (as well as placing them on the toilet each time by default the first couple of days), we opted for a $10~ (free ship with Amazon Prime) Potty Watch with 30-,60-, and 90-minute timer settings. Our toddler was really into her watch, she liked that she had a watch on just like mommy and daddy. And, this would ensure a reminder for her and her caregivers once she returned to day care. On unlucky day number thirteen of potty training, the watch stopped working. My husband went in to replace the batteries and noticed the inside was ultra corroded from water getting inside with every hand wash she did following the potty. Now, we knew at the time we bought the watch that the reviews weren't that great on Amazon, and many people said it was impossible to replace the batteries (and now we know why), but it was so inexpensive we went that route anyway. The day her watch stopped working, her day caregiver said she would just set the timer on her smart phone and use that instead. We're replacing her Potty Watch since it seemed to be such a big hit and motivator, and will continue to use this until she/we don't need it anymore. Ultimately it breaks down to just $5/week, which is wayyy less than we were spending on her diapers before.
Clothing
Knowing we would need a lot of spare pairs, we opted for some of the less expensive pairs of character undies from Walmart. They'll generally set you back about $4 for a 3-pair. A 7-pair I purchased at H&M was $17.99 for comparison, and I'm definitely not getting more there until the accidents are a thing of the past. Nothing like having to throw out a pair of expensive undies that have only been used once. As the Lucie's List site states, having the child be part of the underwear selection process can help (our little lady helped us pick out some Trolls ones) as well as having their favorite characters on them (so you can remind your child to "keep [Poppy] dry", "[Poppy] doesn't like to get her hair wet.") I loaded up on leggings on sale at our close-by Old Navy Outlet store. Remember to have a spare pair of undies and leggings in each diaper bag too.
Pull-Ups (for Naptime / Nighttime Only)
We're nearly exclusively a Pampers household, except when it comes to swim diapers and pull-up diapers. We found that the Huggies Pull-Ups Training Pants were our favorites for naptime and nighttime. They are plenty absorbent during sleep times, on the cheap in bulk at our nearby Costco Wholesale, and we love it that the sides open up, making for much easier clean up.
In closing, a good friend of mine was recently reminding me that to have potty training stick, you've got to remember to remind your little one to go. As a result of their nerve signals not being fully developed yet at this age, they often get busy with play and forget and next thing you know…an accident has happened. So, remember that accidents will happen. Try your best to be one step ahead of them (if it's been two hours since your little one last produced on the potty, you know it's time for them to sit there a bit again). Go with your gut. Don't give up. And, remember not to say "it's ok" (which is really hard to do). Instead, say "Oops, you had an accident! Poop and pee goes in the potty." Be positive, encouraging, and enthusiastic. Don't get mad. Remember, this is a huge life changing event for them.
And, good luck with the transition to the bed and out of the highchair too. Those are not far off on the horizon for us.
Saving Amy is a participant in the Amazon Services LLC Associates Program, an affiliate advertising program designed to provide a means for sites to earn advertising fees by advertising and linking to amazon.com.