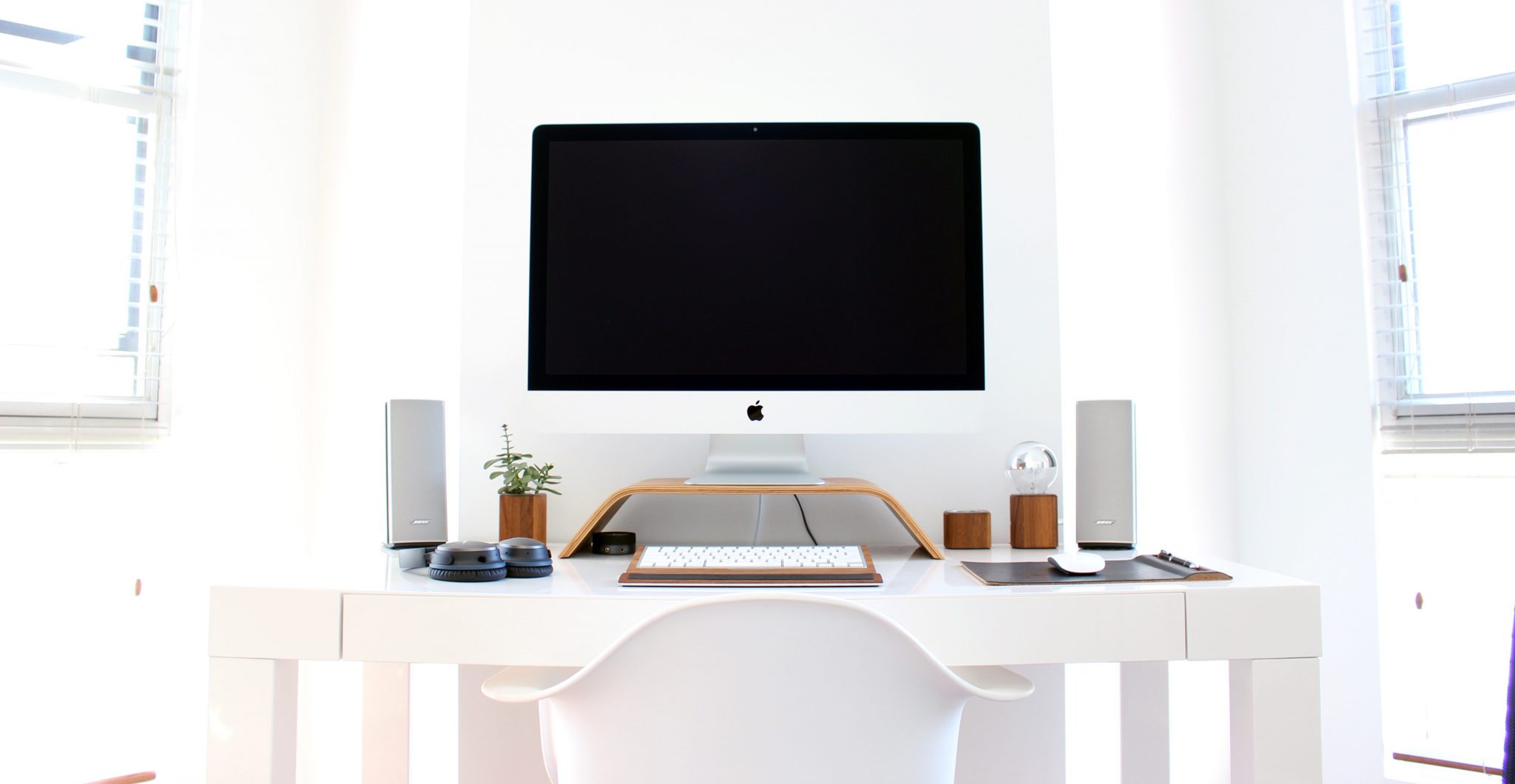 Kickstart: Web Site & Blog Starter Guide
So, you want to build your own web site or personal blog? Here's my "quick" take on how you can get started with this, using WordPress to get you set up and running quickly.
Cultivate & Nurture Your Idea
After starting and stopping the wheels spinning on several web site ideas over the years, it has become apparent to me that in order to have a successful personal blog, you need to narrow your focus. Just like with a craft fair booth, the more you perfect a single item, and mass produce it, the more you become an expert in that field and make a better product, so on and so forth. So, really think this through before you get started. Perhaps jot down a list of topics or specific content pieces that are ready to go in your mind right now. This list may later parlay into your site navigation and/or categories, tags.
Domain Registration
Once you have your focus narrowed, brainstorm some names. But, don't go and create your brand just yet. Instead, make sure the domain (and quite possibly you'll want to check the major social networks: Facebook, Instagram, Twitter, Pinterest to see if the short version of the name is available there too as a handle) is available before you proceed.
Ever since the government deregulated Network Solutions as the sole U.S. hosting company around 2000, several U.S. domain registrants appeared as competition with much lower pricing. Around that time I made the move to Dotster.com, which I've been at ever since. I'm just so familiar with the administration area now and it still meets my needs that I haven't had a reason to leave. You can often find coupons for brand new domain registrations on Dotster.com too.
For your primary domain, get a .com. It's just much easier for folks to remember. If you later decide to get a short URL and run your long URLs through a shortener like bit.ly, you can sign up for whatever top level domain extension that suits your needs for that.
Try a couple of variations for your domain name, until you find the one that you'll be happiest with.
If you are set on a domain name and it's not available, use a simple "whois" search in your favorite browser to learn when the current domain name registration is likely to expire. You may be waiting for some time. Pick an alternative even while you wait.
Once you have your domain name, don't forget to promptly secure all social network profiles of importance to you. Even if you don't use them immediately, they will come in helpful when it's time to market your site.
Logo & Branding
This can be a tricky one, unless you have a bit of artistic or graphic design running through you. You'll have to settle on colors, typefaces, shape, etc. If you are not keen to doing this task yourself, enlist a company who specializes in logo design. I'm most familiar with Sagetopia, based in Northern Virginia, if you can't think of one top of mind. If you don't have the resources to bring a professional design company into the mix, you may want to consider WithOomph.com which will generate a logo-on-the-fly based on keywords you type in inexpensively. Remember, you get what you pay for.
You'll want to make sure your logo looks good both horizontally, vertically, and in a square version for use on social media. You may even want to consider limiting colors and tagline, to be able to embroider on golf shirts down the line.
Whatever you do, make sure you treat your logo with utmost respect to protect your brand image.  Here's a collage of brand guides which you may want to emulate.
You may also want to convert the square version of your logo into a "favicon" (Favorite Icon) so that you have a small branded graphic that appears in the URL line in the browser.  There are several online resources for generating favicons (just one hyperlinked example).
Web Hosting
This can also get a little confusing to navigate for the first time, unless you know about how much storage space and bandwidth you'll need. For the average person getting started, the most basic account will be just fine. I happen to also host through my domain name provider, Dotster.com, to keep everything all in one administrator area. I've found that setting up the database for WordPress, as well as other basic settings, are easy to navigate within Dotster, so I've just stayed there. Just make sure whichever hosting company you land with that they support WordPress, as well as MySQL databases within your account, as you'll need one for the content retention for WordPress.  There are videos on YouTube for how to setup your corresponding MySQL database for WordPress too.
Content Management System (CMS)
WordPress.org (similar to WordPress.com) is a site where you can download for free the open source code that you can use an FTP program (like Filezilla) to transfer up to your web hosting server. You can then walk through the online steps to install it.  You will have much greater flexibility (and customization options) with WordPress.org, so go that route if you are technically savvy enough to do so.
Design
Once you have WordPress files installed to your web hosting server, I highly recommend sifting through the options at ThemeForest, and filtering based on most recent or most popular, or search terms for the type of design you are seeking. I also pay close attention to ratings and reviews here to understand the simplicity of the install and customization before I purchase any theme. Don't tread lightly. Look specifically for a template that is within your budget and you know you'll have content to fill (think about both text and high-resolution images). Rule out any and all templates that are not "responsive." Responsive templates work seamlessly on desktop, mobile, and tablets. Most of the designs I've purchased are around $60 and come with version control as new releases come out over time.
Through the administrator area of WordPress, you'll be able to install (and upload) your new theme. Follow the instructions and message board specific to that theme to apply the customizations that you need.
While implementing your theme, make it easy for your site visitors to find your social media pages. You can incorporate icons in your header, footer, sidebar to take visitors straight to your social media pages or even embed content from the various networks right into your site. If your design does not come with matching social media icons, one of my favorite free sources is SoftIcons.com. You'll be able to find options here that compliment your site's design.
And, finally, I rely on Unsplash and Pexels for royalty-fee free images for my blog, when I don't already have my own photo available at my fingertips. This is super helpful when you're starting out and don't have much of a budget to afford purchasing photos off the web. Whatever you do, don't use photographs off of a Google image search — they simply do not belong to you!
Driving Traffic
I have been subscribed to Social Media Examiner for years, and though it's rare I have time to sift through all the great content, it does become my first stop when looking for ideas to generate site traffic.
With this blog, I have Google Analytics setup to monitor my most popular content (and therefore write additional content that resonates most with my audience, which helps to drive repeat visitors). I also use a custom URL attached to my bit.ly account where I can get analytics from my Instagram traffic, since you cannot post hyperlinked URLs in posts there.
I also have Google Webmaster Tools enabled and have uploaded an XML Sitemap (not a sitemap that your general traffic sees, but instead a sitemap specifically for Google to crawl and index your site in its search database). There are WordPress plugins which will create an XML Sitemap for you, noted in the plugins list below.
I focus my attention on Facebook, Instagram, Twitter, and Pinterest for my social traffic drivers. I have been taking some photography workshops most recently to get better with my photography and build a better following on those channels. These have been through local community colleges and ed2go.com.
Add your site to Google feedburner. Once you have your feedburner URL (i.e., http://feeds.feedburner.com/SavingAmy), you may want to link to that along with your social media icons on your site.
Additionally, I'm part of a network of local bloggers, HoCoBlogs.com, for Howard County, Maryland bloggers, which also drives local traffic to my site as well.
Before I started heavily promoting my site to friends and family, I made sure to have a good couple months of content under my belt, which helped to validate the site for first-time visitors. Don't start promoting your site when you have just one article, unless you are at the beginning of telling a story via your blog. And, whatever you do…don't promote any pages on your site with a "Coming Soon!" message. It simply does nothing for your visitors.
Extra, Nice to Knows
Further Education
If you feel like you could use a little extra knowledge in regards to WordPress or design applications (for your logo), check out Lynda.com. Lynda offers a 10-day free trial, if you want to test drive, and thereafter monthly subscription fees starting at $20/month.
Also, check out YouTube for tutorial videos and to learn more about search engine optimization.
WordPress Plugins
Some of my favorite free or freemium plugins are, as follows:
Akismet Anti-Spam, by Automattic, protects your WordPress site from spam (post comments).
All In One SEO Pack, by Michael Torbert, gives you more customization on your posts for capturing search engine optimization (SEO), free traffic from the search engines, as well as being a tool to create your XML Sitemap for you…as discussed earlier.
Anit-Captcha, by Filidor Wiese, is a transparent captcha solution that does not require end-user interaction (typing in letters seen in an image, for instance). Also helps reduce spam.
Anti-spam, by webvitaly, no spam in comments without using captcha.
Better Click to Tweet, by Ben Meredith, allows for easy embedding of ClickToTweet.com blocks in your site content.
Better Search Replace, by Delicious Brains, allows you to search-and-replace within the text of your site.
Broken Link Checker, by Janis Elsts, checks your site for broken links and missing images and notifies you on the dashboard and/or by email when they are found. Allows you to tend to those broken links faster, keeping your site as reliable and trustable as possible.
Contact Form 7, by Takayuki Miyoshi, should you need to build a form within a page on your site.
Custom 404 Error Page, by Kaspars Dambis, for when your theme doesn't already come with a 404 error page (when someone lands on a site URL that doesn't exist).
Envato Market, by Derek Herman, helps you when releases come out for your ThemeForest theme to keep your site code up-to-date.
Google XML Sitemaps, by Arne Brachhold, another XML Sitemap generator.
Page Links To, by Mark Jaquith, this is a really helpful tool if you want to include content say on the homepage or category page of your site, that actually links to the content's permanent location elsewhere on the web. It'll start out looking like just an ordinary piece of content on your site, but will drive the user elsewhere.
SubHeading, by StvWhtly, if you often find you can't fit everything you want to say into a compact, but SEO-friendly, post title, this will come in handy. Use it to display a subhead within the post page itself, to compliment the post title.
Ultimate Google Analytics, by Wilfred van der Deijl, if your theme doesn't come with a place to insert your Google Analytics tag, this will offer you that option without having to touch any code yourself.
WordPress Importer, by wordpressdotorg, for when you need to import your database content: tags, topics, posts, pages, etc. from one WordPress site location to another.
Yet Another Related Posts Plugin, by Adknowledge, will help make your site even stickier by introducing similar posts within your post page. It'll help keep traffic on your site longer by introducing similar content to the already interested eyes.
Form Management
Wufoo has a free basic service to allow you to create easy forms that can be embedded in your site. If you use Wufoo, also consider installing WordPress plugin: Wufoo Shortcode Plugin, by Chris Coyier.
Social Follow and Share
Build Your Own Blog 101 https://t.co/jUeMArSrRH #websitestarterguide #blogstarterguide #getstartedblogging #wordpress #websiteguide

— Saving Amy (@savingamyblog) May 1, 2017
Related: