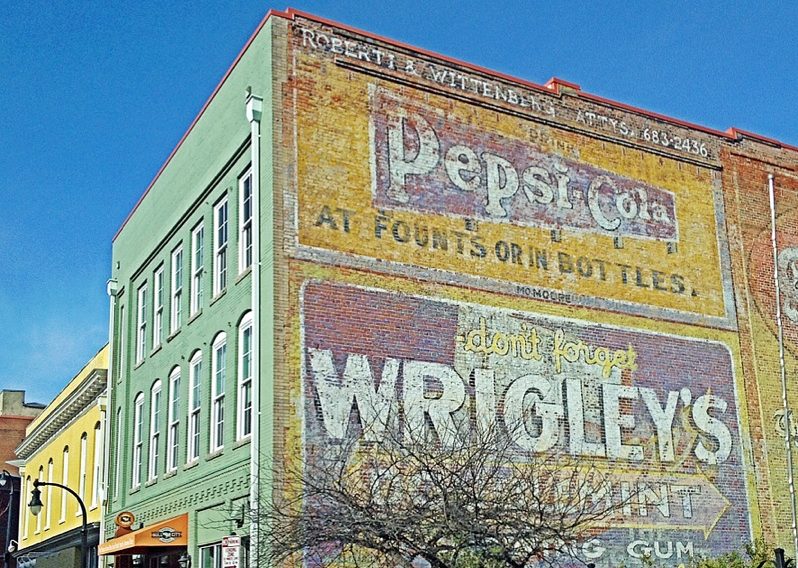 Visit to Bull City Burger and Brewery in Durham, N.C.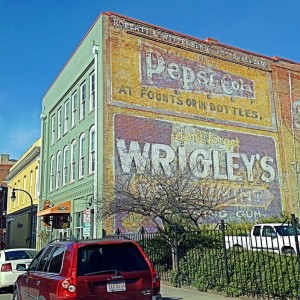 Driving the 10-hours, 600 miles from a Georgia visit to see my family back home to Central MD on Monday, January 13 might have started a new tradition for the fiance and I.  We were maybe a couple of hours into the trip when we were both getting the itch to stretch our legs and walk around somewhere.
It dawned on me that we might be a couple of hours south of the Red Oak Brewery that we always see off the side of the highway on the couple of trips north and south we do each year.  Being the navigator, I Google'd it only to find that they offer one tour and tasting time in the dead middle of the afternoon on Friday's only.  But, the German-style brewery we'll have to hit on one of our future trips south…to time it just right.
So, we started racking our brains for alternatives.  And, I remembered that I had once installed this app on my iPhone called BreweryMap by PintLabs.  So, I popped it up on the screen and was able to enter our current starting point and our ending point in the "Road Trip" tab.  It spit out tons of tiny little dots along our route.  So, approximating we would be heading through the Durham area around lunchtime, I started to focus in on that as our pit stop location.
One-by-one I clicked on each pin to pull up details on each brewery and it wasn't long before one really stood out.  And, it was only about 4 miles off of the I-85 highway we were traveling.  "locally owned, independent restaurant; farm-to-fork; most items produced on-site including house made buns, sauerkraut and bacon; no artificial sweetners, no high fructose corn syrup, and no hydrogenated oils; we make the mustard, the slaw the pickles, the mayo, the aioli, the hotdogs, the relish" were just a few of the highlights of their listing.  Kind of makes me curious where the information is curated from.  Do the breweries manage their profile on BreweryMap themselves?  Regardless, my stomach growled.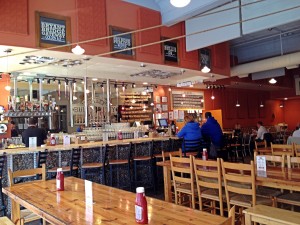 Bull City Burger and Brewery (BCBB for short) was easy to find in downtown Durham.  When you first walk in, you'll be surprised to find there is no table service.  Just long reclaimed barn wood picnic-style tables and an ordering counter at the front.  Also a large sign near the front directing patrons to the back patio.  It sounded enticing, but we needed some Summer weather.  On the left, was a 15-or-so bar stool adorned bar.  We asked the bartender and he confirmed that we could order both beer and food here.  We took a seat.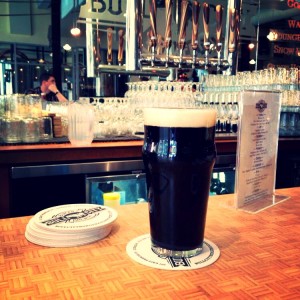 I ordered the Watts Oatmeal Stout, giving it a rating of 4 bottle caps on Untappd.  The fiance ordered Goat Bullock Bock, giving it 3.5 bottlecaps.
The menu, though just featuring a few main staples, sounded very appetizing.  We both got burgers, I opted for the Pimento one and the dude went for the Black and Blue.  They were devoured.  Instead of french fries we got pretzel-battered pickle chips.  Way good.  And, we finished off the meal with some of their in-house made blueberry ice cream.  It was Heaven.
And, not that any of you are going to do it…but if you get one of the recommended three BCBB tattoos displayed throughout the bar, you get 25% off your orders for life (excluding beer).
Moral of the story…  We will definitely be using BreweryMap again.  Without it, we wouldn't have known about this little gem.  And, we're definitely going to do more exploring on our breaks on long car trips.