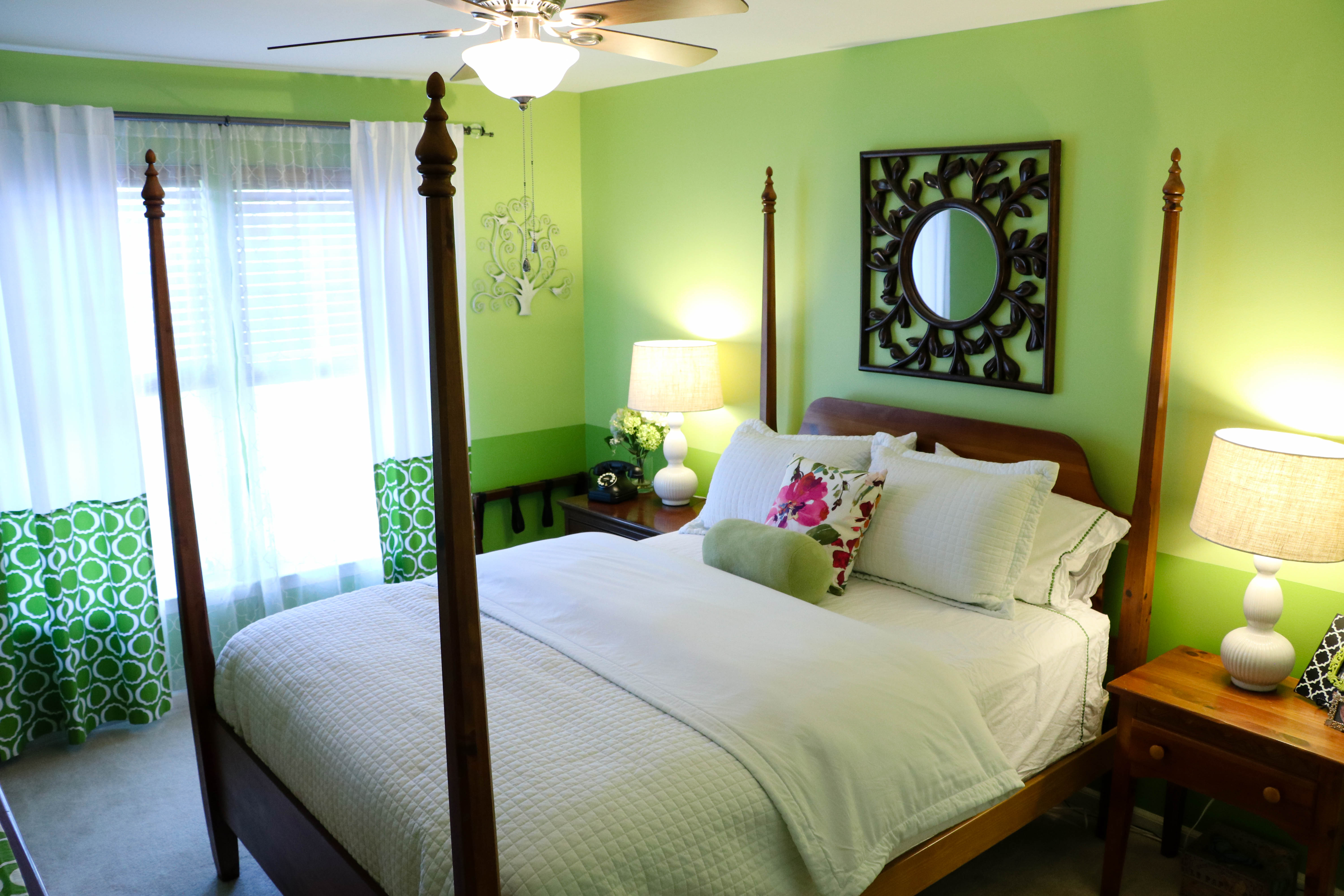 Going Bold with a Guest Bedroom's Color Scheme
In 2014, the year we got married, my husband and I were in the process of converting his home into our home, including repainting many of the rooms in the house with a fresh coat. Prior to starting on our guest bedroom redo, we flipped through "green room" ideas on Pinterest and stumbled upon one that stood out.
Looking back, I think what really grabbed our attention, was that the curtains and walls both had a unique color transition that matched up. Here are some photos of that inspirational bedroom, from the Better Homes & Gardens "A Bedroom Makeover in Green."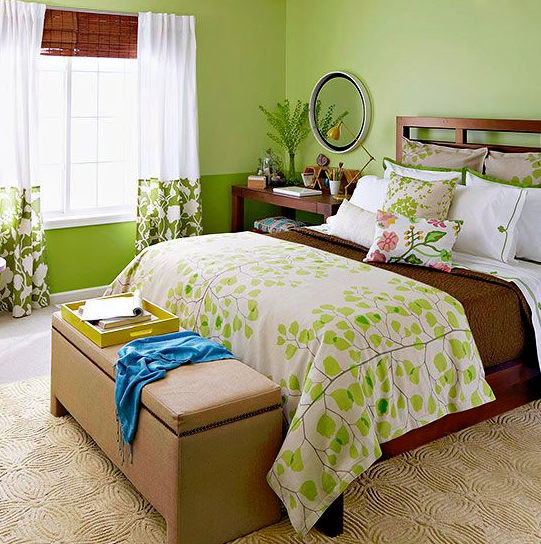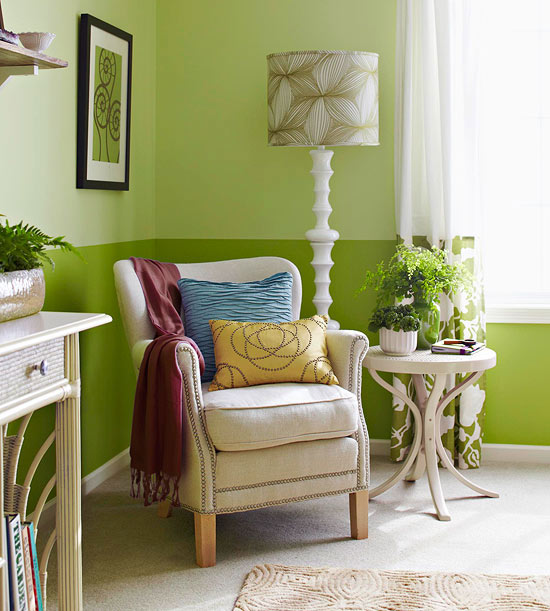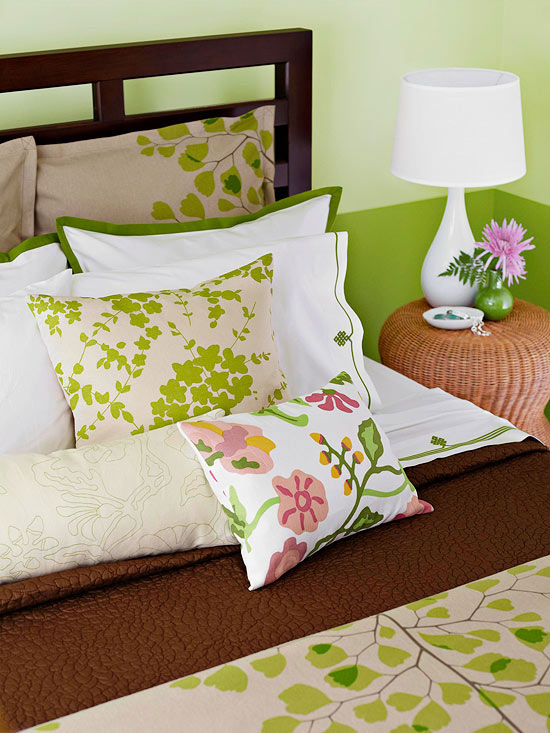 We already had a 4-post bed and matching mirrored dresser and nightstand set that we intended to use in the room. The wood tones of the furniture we thought would be a good match for this two-tone green room. We also had a rather large mirror, framed in a dark wood color, that we planned to incorporate into the room. Otherwise, we had a blank slate.
So, with the inspiration room in mind, we picked up several paint color swatches and brought them home to tape to the walls. This would allow us to visualize the room in such bright shades of green with the available light in the room. Once we had our paint colors narrowed down (see our House Paint Colors blog post for the specific shades we selected), we brought home cans to paint in an eggshell finish. We used painters tape and carefully measured up the wall 35″ around the room for consistency. (Standard chair rail height is 32″, so keep your transition around this measurement). It helps to put up all the tape at the same time, so you can make sure the starting and ending point match up and are level.
Once painting was complete, and furniture was placed back in the room, it was time to accessorize. In order to keep the room's bold colors in check, we decided to incorporate light or white colors everywhere possible throughout the room. For instance, we bought a Real Simple brand white duvet cover from Bed Bath & Beyond (no longer in stock), but you can see several similar styles. We also stumbled upon a pearl-embroidered sheet set in color "Green Apple" (Item #: 4329298) in the Pottery Barn catalog that year as well. Very similar to the inspiration room photos.
I enlisted my mom's help, since she's an expert at her sewing machine, and no matter how many times I try to learn just haven't picked it up yet. We chatted about plans for the curtains and she was concerned about high fabric costs and that we needed a specific look, so I had an idea. What if I were to purchase a duvet cover set on Overstock.com in the color that we needed, to be taken apart and reused for curtains? And, voila, I found just the thing! So, along with white muslin for the top portions, and a white back liner, she created our curtains.
We decided not to hang our curtain rod until we received the final curtains by mail. This would allow us to hang the curtains to line up to the wall paint with precision. We also went with a wood blind set from Lowe's, similar to the inspiration room. And, I stumbled upon a sheer curtain deal via Brad's Deals daily email (see blog post on Online Shopping Savings Resources) at Boscov's (no longer in stock) that nearly repeated the lower curtain design in their stitching instead.
We found a similar lamp set, to the inspiration room, at Model Home Interiors in Elkridge, MD (see my blog post on Model Home Interiors).
Our bed accent pillow case came from Etsy's Pillomatic shop, I believe after I spotted it in a magazine in 2016. I just wasn't fond of the accent pillowcase we had originally started out with. The pillow insert was a size up from the pillow case dimensions (to overstuff it) from Jo-Ann Fabric & Craft Stores.
And, our faux flowers, with a hint of green, from Wayfair after browsing through home decor stores online.
The white metal wall art with birds in the back corner of our room was found at Jo-Ann Fabric & Craft Stores in 2014.
All else we already had.
And, so our Green Guest Bedroom was born…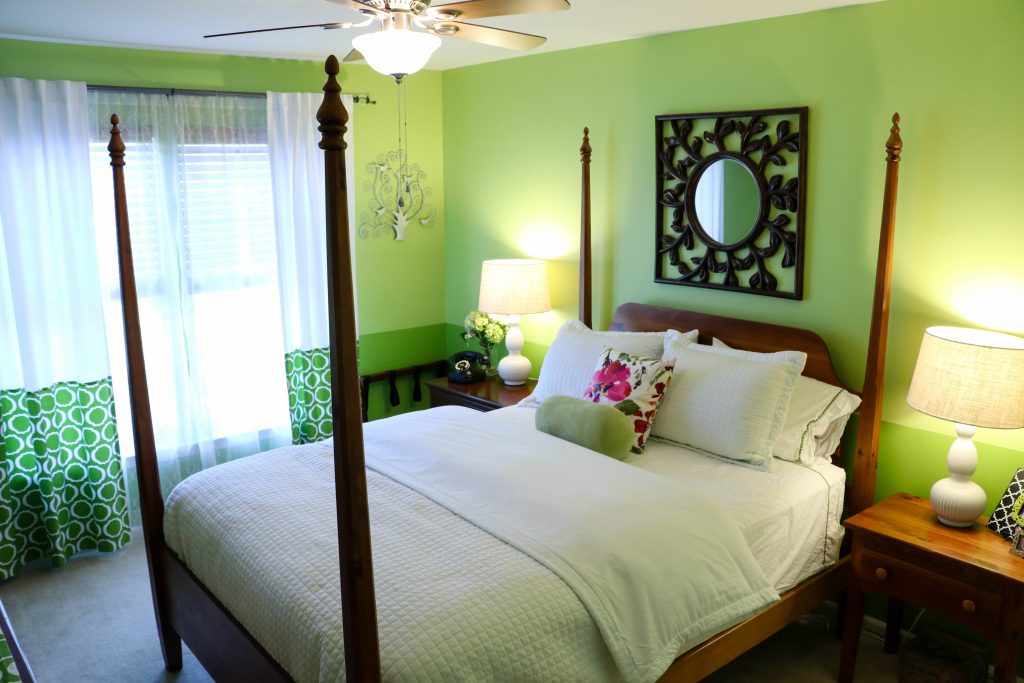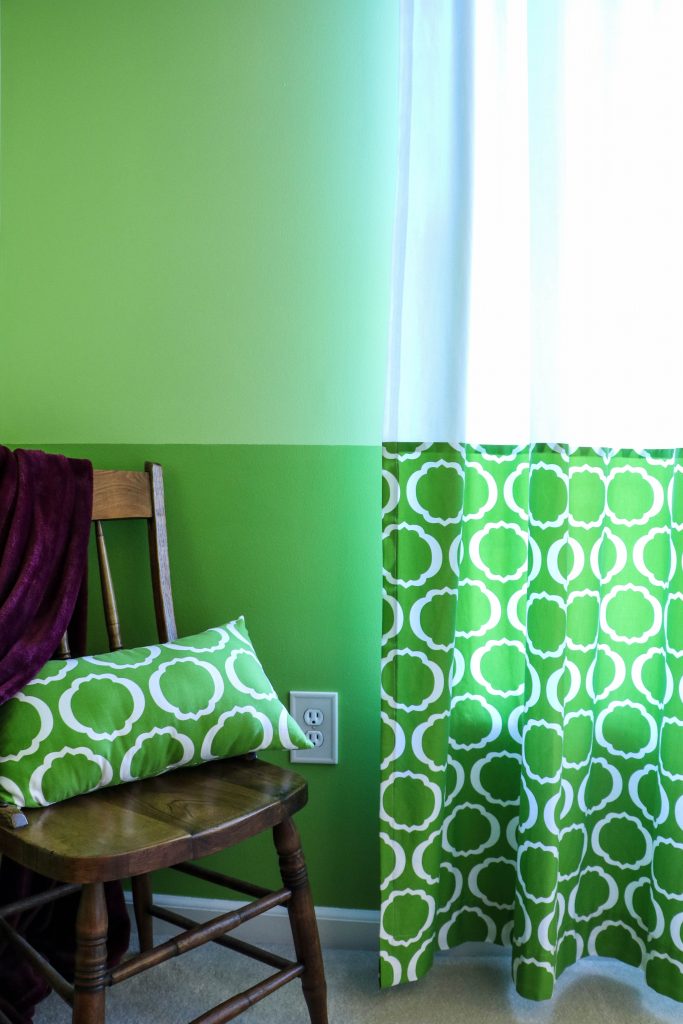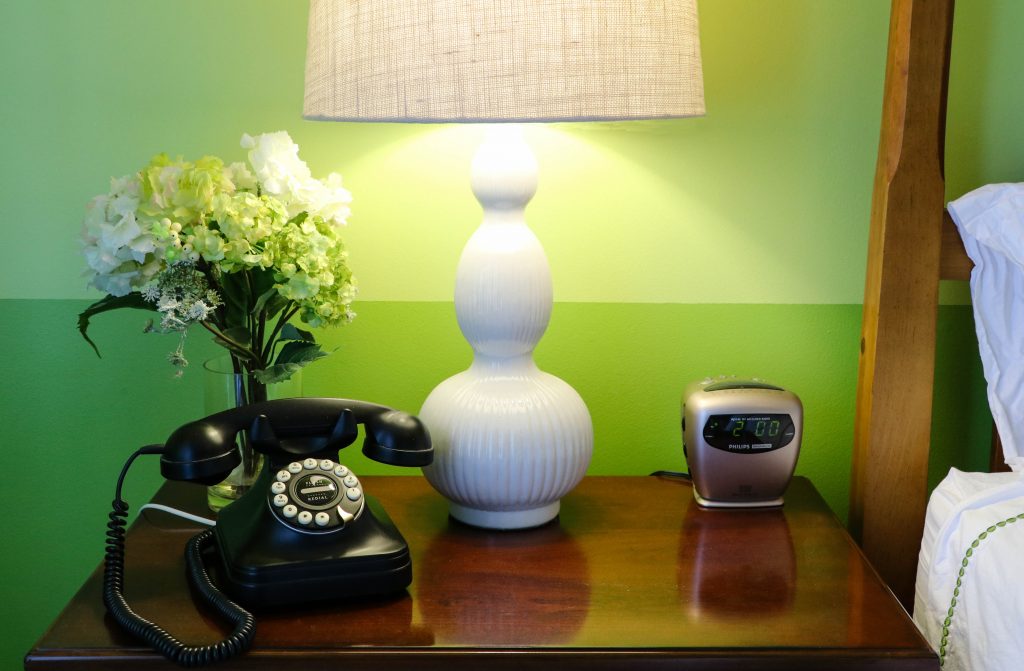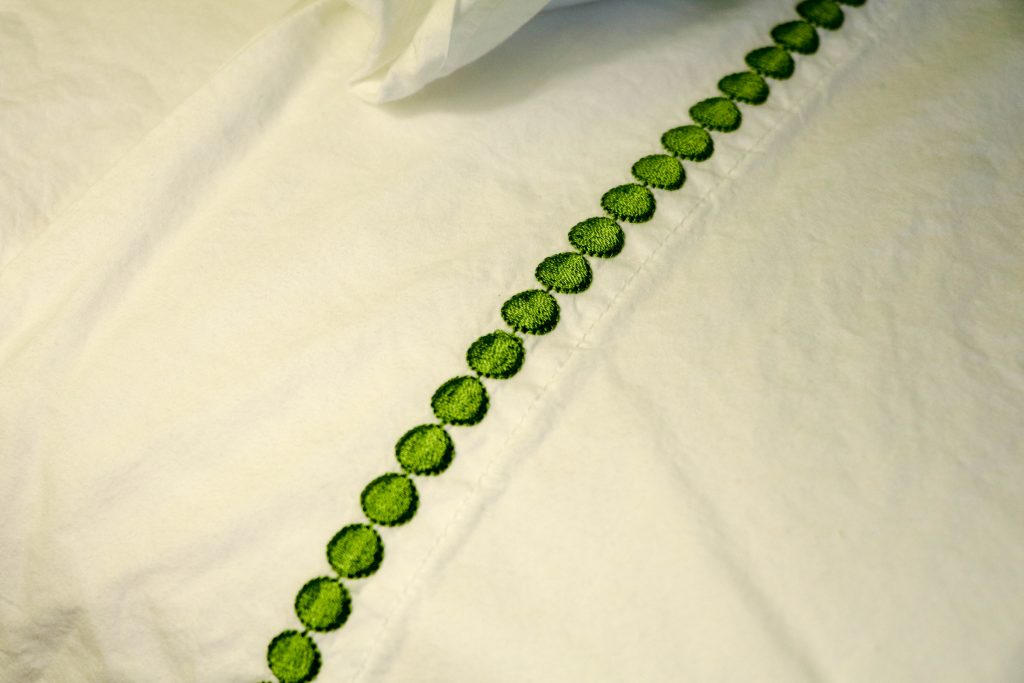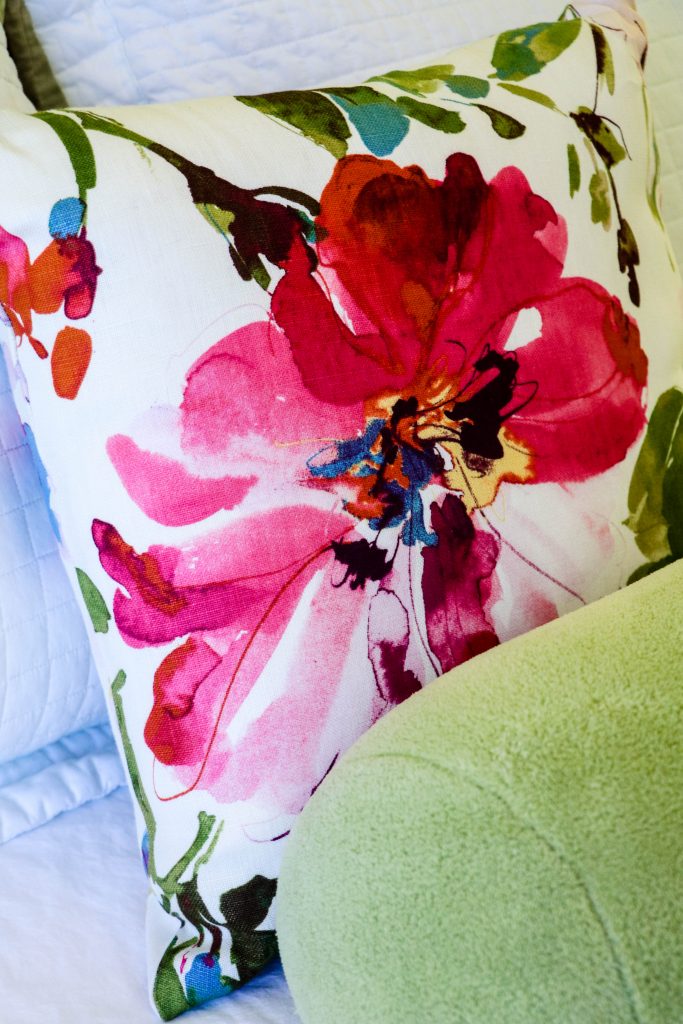 There's a couple of key takeaways here:
A) If you are good with imitation but maybe not so hot with creating your own brand new ideas, scan Pinterest for inspiration photos to guide you with a room makeover. And,
B) Dare to go "bold" in your guest bedroom.
Social Follow and Share
New on the blog: Dare to go bold in your guest bedroom makeover. https://t.co/GymmebXRk0 #bedroommakeover #bedroomredo #bedroomdecor pic.twitter.com/ysB3THeJH2

— Saving Amy (@savingamyblog) April 22, 2017